Once Upon A Time in Edinburgh…
---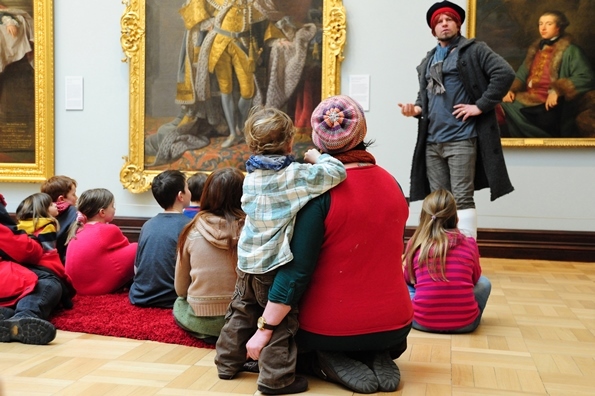 Macastory at the Scottish National Portrait Gallery. Credit Alicia Bruce
Edinburgh's determination to retain the title of World-Leading Festival City continues with The Scottish International Storytelling Festival, which kicks off tomorrow.
This year's programme follows the theme 'Once Upon a Place', offering ten incredible days of events for adults and children, bringing Edinburgh to life as a city of story, and radiating out with touring events across Scotland.
There are events looking back at the past in town and country, and gazing into the future through the dreams, imaginings and visions of poets and bards, while Open Hearth sessions celebrate the stories and songs that connect across the continents. The Festival combines storytelling ceilidhs with talks, landscape tours and specially commissioned performances, with guest storytellers from Europe, North America and the Pacific regions performing alongside the cream of Scotland's storytellers.
This year's Storytelling Festival also marks the 10th anniversary of Edinburgh's designation as the world's first UNESCO City of Literature with celebrations of three famous Edinburgh storytellers – Sir Walter Scott, Robert Louis Stevenson and raconteur extraordinaire of the Old Town, John Fee.
The Festival concludes with a finale weekend marking the ancient Celtic New Year of Samhain or Hallowe'en – the perfect ending to a very good tale or two!
For more information about the Scottish International Storytelling Festival, which is from October 24 until November 2, and Edinburgh's other festivals, visit www.edinburghfestivalcity.com.
---
Other highlights include:
Commemorations of WWI with Macastory: A Soldier's Tale at the Scottish National Portrait Gallery.
A chance to visit the Blair Street Underground Vaults and explore the deepest, largest and most extensive vaults in the city.
Storytelling in the Royal Botanic Garden, Edinburgh.
Exploring Celtic Traditions with George Macpherson, the traditional Seanachaidh of Glendale, who has a special interest in stories of the second sight.
Meeting the Fairies. Storytellers, singers and musicians David Francis and Rachel Newton of The Shee introduce the Fairies or, as they prefer to be called, the Good Folk or the Gentle Kind.