Visit Japan In Cherry Blossom Season – Sponsored
---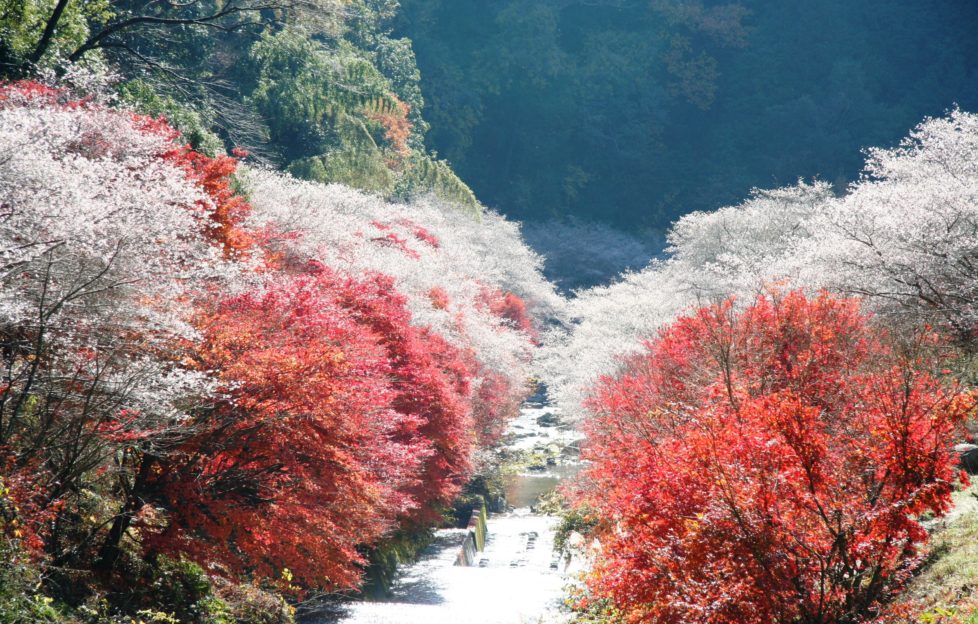 In recent years, there has been an influx of Scots travelling, working and relocating to Japan. And Visit Japan want more of us to know about it…
Why not visit Japan during spring, the cherry blossom season. This is always a special experience. Cloud-like trees adorned with a myriad of blossoms line the streets, parks, river banks and mountains all over Japan. With the dominance of pastel pink flowers, the nation feels festive and celebrates.
While most of the cherry trees blossom during the March to April period, the Central Japan* area can offer surprisingly diverse blossom times for visitors, in February as well as in late autumn, having a variety of cherry species.
Here are Visit Japan's top hotspots to enjoy the national flower of Japan.
Inuyama Castle
Built on a strategic location overlooking a river, like many of its counterparts in Europe, Inuyama Castle in Inuyama City, Aichi prefecture, is one of the oldest castles still standing in Japan. Its keep was built in 1537 and has seen numerous soldiers marching out to the bloody battle during the Warring States period in the 16th century. Visitors can climb up the steep stairs to the top of this ancient keep, where they can take in a panoramic view of the Kiso River and the plain beyond just as the Samurai warlords would have done five centuries ago. The castle also keeps a collection of authentic Samurai armors on display. In late March, four hundred cherry trees come into full bloom, giving visitors a rare opportunity to capture the picturesque castle within a frame of soft pink flowers.
Usuzumi-zakura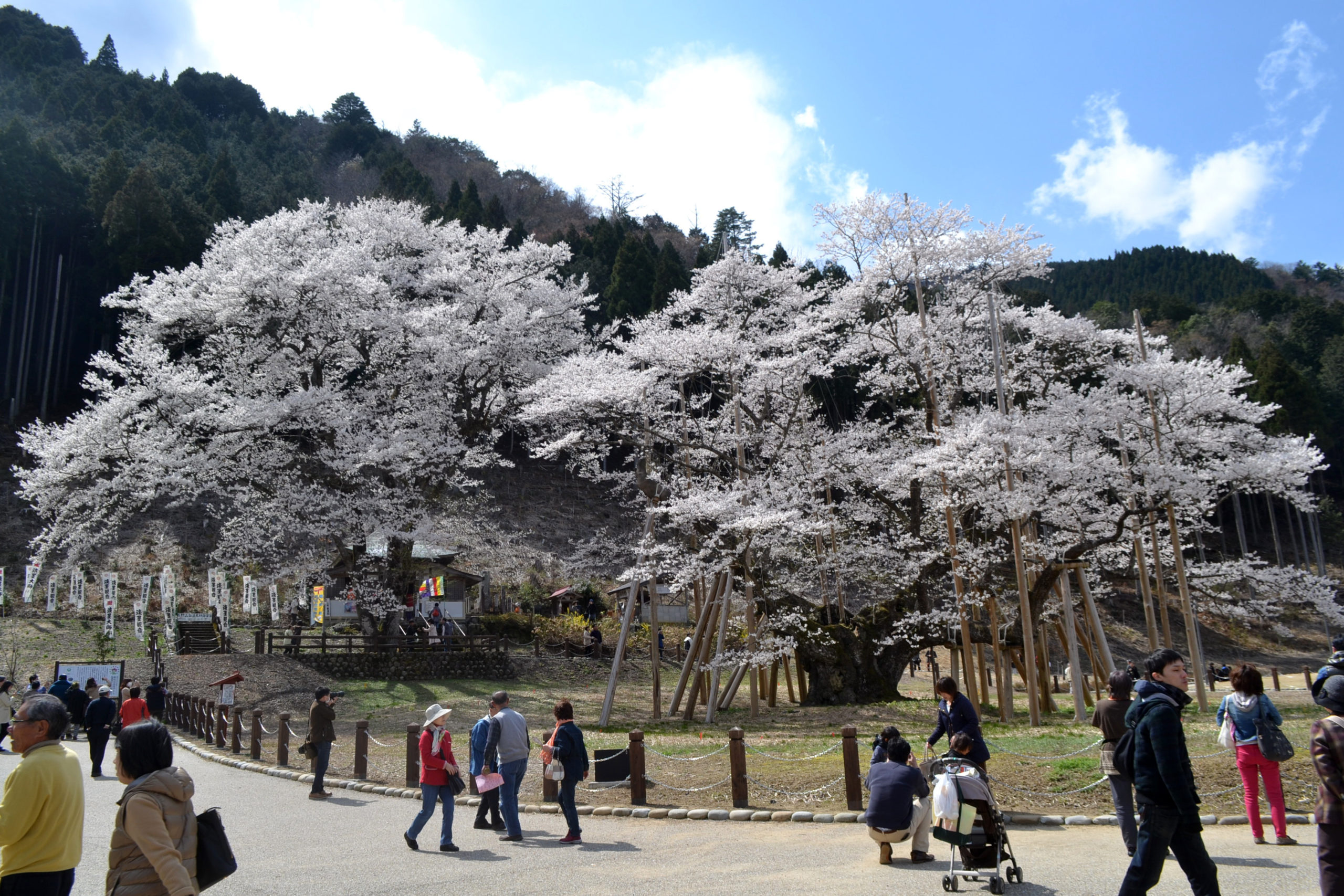 Regarded as one of the Three Great Cherry Trees in Japan, Usuzumi-zakura in Motosu City, Gifu Prefecture, is one huge cherry tree aged 1500 years old. Legend has it that the tree was planted by an Emperor in the early 6th century. Many a twisted boughs, thick and slim, spread out from this venerable tree's wide trunk, which has a circumference of 9.9 meters, or 32 feet. The blossoms will change their hue as they bloom, from pale pink when still in buds, to white in full bloom, and then to a very subtle pink in their final days, a color described by the Japanese as "usuzumi", the color of diluted ink used for traditional ink painting. The tree's peak bloom typically comes in early to mid-April.
Kawazu-zakura
Known as the earliest flowering cherry blossoms in Japan, Kawazu-zakura in Kawazu Town, Shizuoka Prefecture, starts to bloom in early February. While its peak period is roughly one week, visitors can enjoy the blossoms through early March because of its long-lasting flowers. This variety has larger petals with vibrant pink colour. 850 trees stand along the Kawazu River, which is only a 10 minute walk from Kawazu railway station. During their peak, blossoming trees will make a tunnel of flowers on the bank. The town has 8,000 trees in total.
Obara Shiki-zakura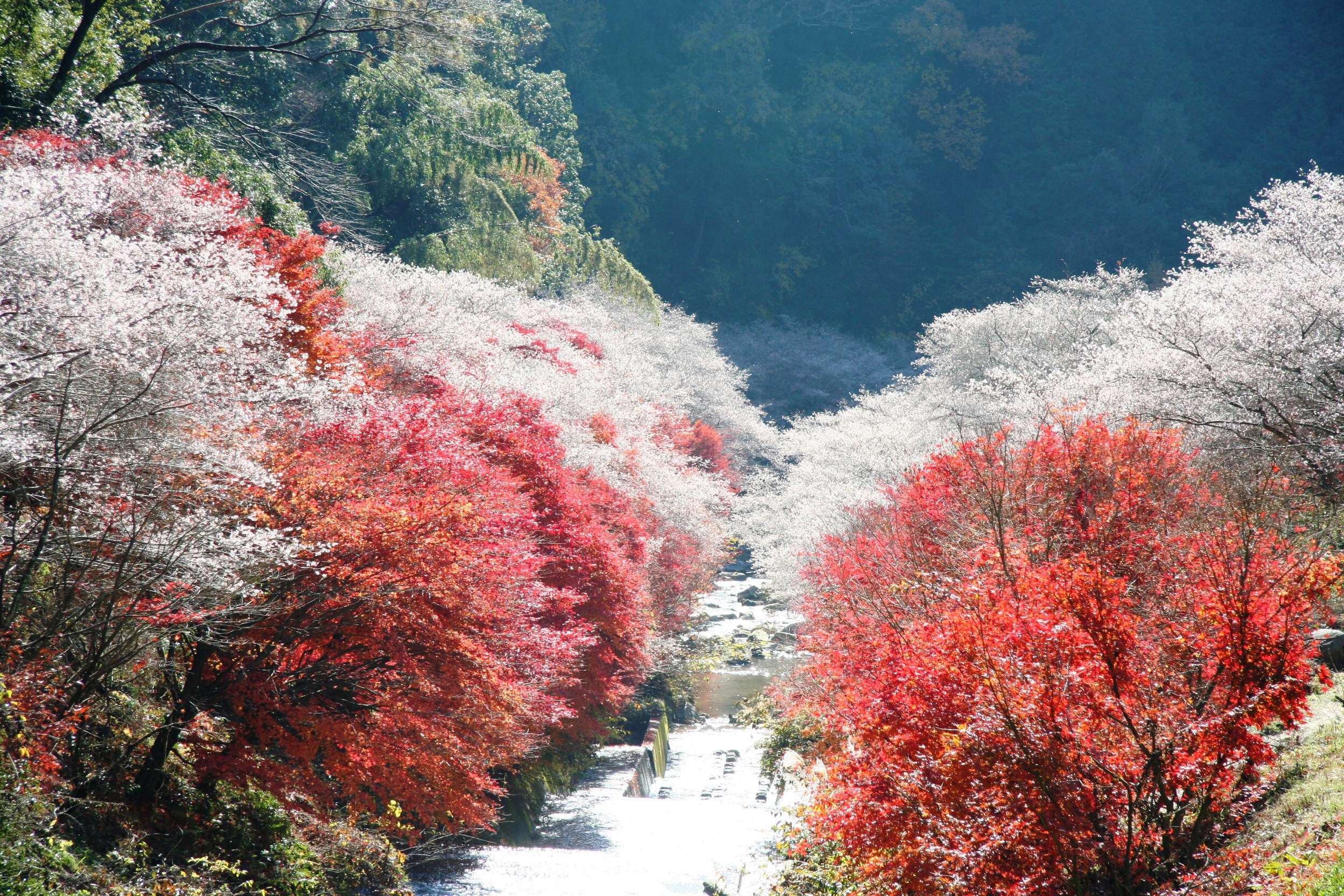 Pink cherry blossoms in Spring and fiery red Autumn foliage are two major eye-catching seasonal attractions in Japan. Enjoy the best of both worlds! Obara District in Toyota City, Aichi Prefecture offers both sights in one place. The town is home to Shiki-zakura, a local variety of cherry tree which blooms twice a year, first in mid-March to early April, then again in late October to early December. It is thought to be a hybrid between two major varieties of cherry tree. The best time to appreciate these blossoms will be November. Locals love this rare variety so much that they have kept planting its saplings in and around the district, now totaling 10,000 trees.
*Central Japan: The area encompassing the nine prefectures of Aichi, Toyama, Ishikawa, Fukui, Nagano, Gifu, Shizuoka, Mie and Shiga, which includes the three major metropolitan areas of Nagoya, Shizuoka and Hamamatsu. Situated between Tokyo and Kyoto, it occupies the center of Japan's main island, Honshu.