The Only Way Is Up… Scotland's Via Ferrata
---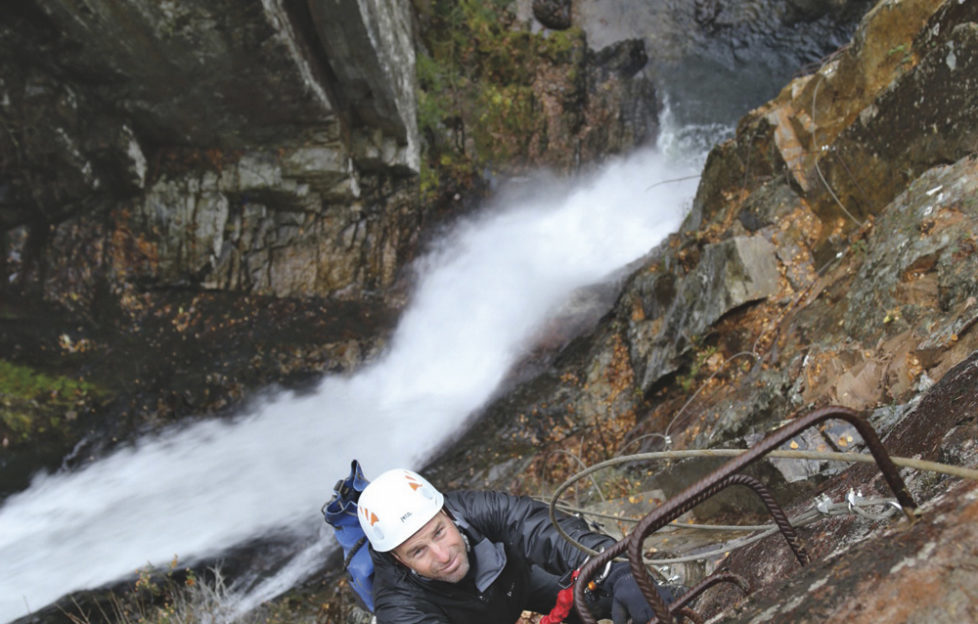 Did you know that Scotland has it's own Via Ferrata?
It is simply a question of mind over matter, fighting the doubts that niggle inside you and going for it.
I don't mean the last piece of gateau or the final chocolate in the box. In these cases, no one minds and it doesn't matter. I'm talking about facing Scotland's first Via Ferrata! It is set on a cliff face in picturesque Kinlochleven beside the 90m Grey Mare's Tail waterfall.
The origins of the Via Ferrata (Iron Way) can be traced back to the 19th century. The first modern routes were built to move soldiers safely round the Alps during the First World War. Using ropes and wooden ladders, they could travel through the mountains quickly and safely.
Now, 100 years later, the sport is becoming more popular and the route in Kinlochleven, the first in Scotland, is liable to become a much sought-after climbing experience.
A Straightforward Climb?
On paper, the climb seems pretty straightforward, a 450m succession of steel rungs and cable bridges which are negotiated while you are permanently clipped on to a continuous safety cable. On paper, I said. In reality, it's a different kettle of fish.
Ben Starkie, the man behind the setting up of this Via Ferrata, believes facing a challenge head-on is character-building.
"It's extremely important to push yourself out of your comfort zone," he says. "It helps you in all walks of life, increasing confidence and as a result helping you deal with the pressures life can throw at you."
Ben hails from the Lake District and his love of the outdoors stems from the influence of his parents.
"I started hill walking and climbing when I was four and kayaking when I was ten. I grew up wandering round the Lake District and paddling down rivers."
As a result of this passion Ben moved to Kinlochleven and take over the Scottish arm of VF's sister company Vertical Descents who have bases in Arbroath, Edinburgh, Oban, Fort William, Glencoe, Perthshire and Stirlingshire.
Adventure For Everyone
The choices for the outward bound vary from coasteering to gorge walking, canyoning to paintballing and mountain biking to even funyakking, two-person inflatable boats for white-water rafting. Somehow I didn't think the latter had anything to do with having a laugh and a blether! Whatever the activity, there's no doubt Ben is in his element.
As I started the venture, Ben was on hand to give me personal tuition, encouragement and peace of mind. I nearly copped out at the very start, however, when faced with the first obstacle – which was on ground level. Ben must've sensed my inner turmoil as I contemplated a cable bridge, the crossing of which was a must.
Surely I can't fall at the first fence – well, it was Grand National weekend – so I plucked up the courage and said "OK! Let's do it!"
Once across, I wouldn't exactly say it was plain sailing but the more I got used to the technique, the more comfortable I became. There were some tricky manoeuvres – traversing the rock face wasn't easy – but trepidation turned to exhilaration and I even took time to enjoy the view.
A Nerve-wracking Climb
There's plenty opportunity to stop for a breather – an extra carabiner on your safety harness can be clipped on to any of the rungs. I felt continued momentum was above all the best way to deal with things. There was always the danger of "freezing" and leaving Ben no option but to lower me down on a safety rope, and I soon realised that going down would be even trickier than going up.
Thankfully the thought of abject failure never clouded my mind – I was well and truly focused after that. I made the point of not asking Ben how far we had to go, content to see the summit gradually home into view. Before I knew it, a rope-ladder with half-a-dozen rungs was the last obstacle and I was home and dry.
Well, not dry – because the spray from the waterfall saw to that!
After that, all that was left was a leisurely trek back to Kinlochleven, and a well-earned beer in the nearest hostelry. Well, in conclusion, I reckon I deserved it!
---
Fast Facts
Via Ferrata means "Iron Way"
Developed to allow troop movements in Alps
Now a leisure pastime
Expect to get wet!
Grey Mare's Tail Waterfall is 90m high
For more great adventures pick up the latest issue of The Scots Magazine. In the shops now or order online by clicking here.