A Wee Preview of Edinburgh Festival Fringe 2015
---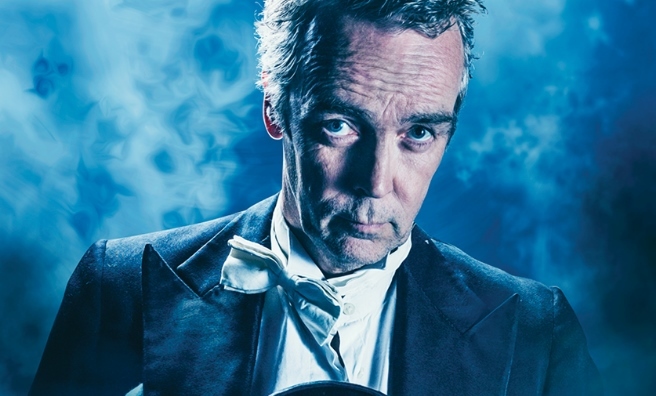 Top actor John Hannah, star of The Titanic Orchestra at The Pleasance
The launch of the joint programme by Assembly, Gilded Balloon, Pleasance and Underbelly has revealed that, once again, the Edinburgh Fringe is going to be utterly fabulous!
"Ths is a programme of world class talent from across the globe," said Karen Koren of Gilded Balloon, who added that the four venues also share a box office and a website. " Jointly, we present 654 shows in almost every genre under the sun. From theatre, comedy, music and mime to dance, cabaret, spoken word, puppetry, magic, music and children's theatre – there are shows for all ages and all tastes."
A host of funny and familiar faces
Assembly Festival will be providing 'an unmissable programme of hilarious comedy, exceptional theatre, exhilarating dance and amazing music' in venues across Edinburgh's Old Town, including Quebecois circus phenomenon Les 7 Doigts de la Main, whose show combines acrobatics with urban dance and performance art. This summer will also see a fantastic comedy line-up descend upon Assembly, including Jason Byrne, Patrick Kielty, Adam Hills, Chris Ramsey and Marcus Brigstocke.
As always, Assembly's kids' shows feature much-loved favourites and exciting premieres. The scruffy pup from Donaldson's Dairy is back with brand new show Hairy Maclary's Cats Tales and Assembly will also be home to the superb New Zealand show The Bookbinder, which fuses paper art, shadow play, puppetry, music and pop-up books.
Theatre offerings are led by Hollywood star John Hannah
The Pleasance's exceptional selection of events covers a range of art forms, topics and cultures, ranging from physical theatre and dance, political theatre, farce, mime and comedy, as well as its biggest ever kids' programme, with 26 dedicated children's shows.
The theatrical offerings at the Pleasance are led by Hollywood star John Hannah, who appears in The Titanic Orchestra as a man claiming to be the great Houdini who helps four homeless men perform the most astounding vanishing act of all time. The brilliantly amusing Tangram Theatre Company takes on Darwin, Einstein and Curie-Sklodowska in three shows: The Origin of Species…, Albert Einstein: Relatively Speaking and The Element in the Room: A Radioactive Musical Comedy about the Death and Life of Marie Curie respectively.
The Fringe's first major venue dedicated solely to circus acts
2015 sees Underbelly play host to 130 companies in 15 venues spread across the Old Town of Edinburgh. From comedy, theatre, new writing, music and family friendly shows; there's something for everyone, including Circus Hub, the Fringe's first major venue dedicated solely to circus acts and shows.
There will also be chances to attend The Scarecrows' Wedding, a new show is based on the much-loved book by Julia Donaldson and Axel Scheffler. Every weekend, there will be no shortage of laughs at Edinburgh Comedy All Star – four of the biggest and brightest comedians in one huge show at the famous Udderbelly. And there's also Dillie Keane of Fascinating Aida's first solo show in, apparently, 557 years! Brand new songs, grand old favourites, gorgeous songs of love and, as you would expect, songs of disgraceful filth.
'This is an exceptionally exciting year'
And finally – The Gilded Balloon! "This is an exceptionally exciting year for us," said Karen Koren of The Gilded Balloon. "This is our 30th anniversary year and we'll be celebrating by bringing back many familiar favourites, such as Jo Brand, Alan Davies, Barry Cryer, Ed Byrne and Tommy Tiernban, as well as showcasing emerging artistes in comedy, theatre, music and magic.
"We have a brilliant programme, including Willie and Sebastian, written by Rab G Nesbitt creator Iain Pattison and starring Andy Gray and Grant Stott and, in a first for the Fringe. Class Clowns – a stand-up comedy competiton for children of secondary schoool age."
"Together," concluded Karen, "Assembly, The Pleasance, Gilded Balloon and Underbelly have the most diverse and exciting programe on the Fringe."
For more information, or to book tickets, visit www.edfest.com
---
Happy 30th!
As part of their 30th anniversary celebrations, the Gilded Balloon 30th Anniversary Gala will be held at the Edinburgh Playhouse.
Hosted by Adam Hills and Fred MacAuley and featuring many of the funniest comedians ever to appear at the Edinburgh Fringe, this very special event will raise funds for Cornelia de Lange Syndrome, a genetic disorder whch causes a range of physical, cognitive and medical challenges.
For more information, or to book tickets, visit www.edfest.com