200th Anniversary of Craigellachie Bridge
---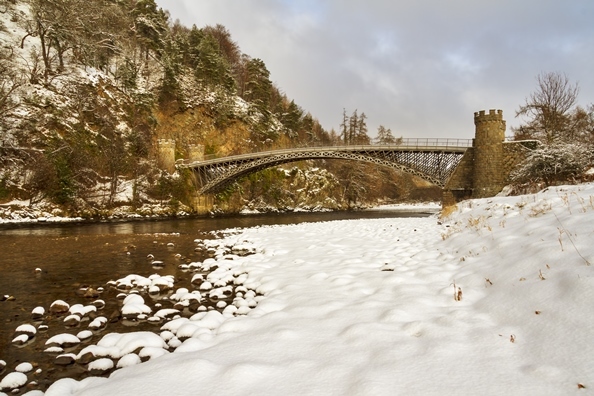 The Telford Bridge across The Spey at Craigellachie
It's not often you get the chance to wish a bridge 'Happy Birthday' but as the iconic Telford bridge at Craigellachie celebrated its 200th anniversary in November 2014, and we took full advantage of the occasion to pass on our congratulations!
And we weren't the only ones marking the occasion…
Craigellachie Village Council organised a series of commemorative events, including a talk in the village hall by acclaimed Telford expert Professor Roland Paxton, the establishment of a new Friends of Craigellachie Bridge group, a church service, a ceilidh and, at 6pm on November 2, a fireworks display from the bridge.
The cast iron bridge across the Spey is Category A listed and has been designated a 'civil engineering landmark' by the Institution of Civil Engineers.
Thomas Telford began work on the bridge began in 1812 and it was completed in 1814, with half of the £8,000 cost raised locally. The bridge was in regular use until 1972 when the A941 was upgraded, taking traffic over a concrete bridge.
A particular target for photographers and featured on countless calendars and paintings, the bridge even has its own Strathspey, written in 1814 by William Marshall.
---
Thomas Telford
Thomas Telford was born in 1757 in Glendinning, to the north of Langholm.
His father was a shepherd who died soon after his son was born, leaving Thomas to be brought up in poverty by his widowed mother.
After training as a stonemason, Thomas Telford moved to Edinburgh, where he began studying architecture.
In 1782, he moved to Bath and became a civil engineer, best known for his roads, bridges and canals, including the Caledonian Canal.
Such was his reputation, Thomas Telford was dubbed 'The Colossus of Roads'