A Guide To Glamping
---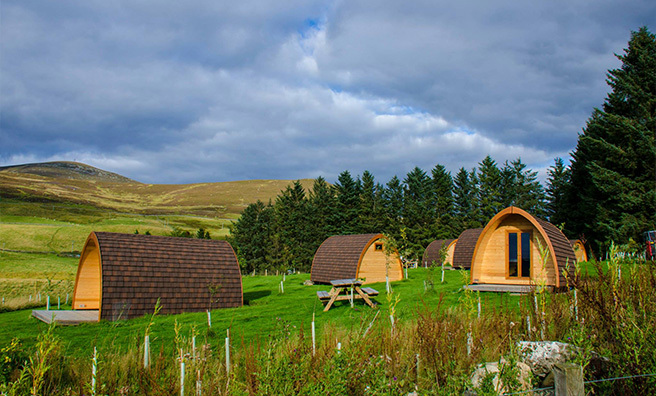 The Scotlanders' Kay Gillespie gives us some expert guidance on the wonderful world of glamping, and where to do it…
I'm a lassie who likes to write lists. The notepad on my smartphone has several: Books To Read, Films To Watch, and Stuff To Buy On Pay-day. There's also one entitled Glamping.
Compiled after many a Google search, it's a wish-list of glorious glamping spots around Scotland which I intend to work my way around, resting and clearing my head as I go.
For anyone unfamiliar with this modern morphing of words, glamping is simply 'glamorous camping'. It is a concept which caters perfectly for those who would rather not erect a tent in inclement weather, but prefer something more unique and intimate than a hotel. Expect the remoteness and excitement of camping, with the basic luxuries of a traditional accommodation – electricity, a toilet, cooking facilities – plus some special touches depending on where you're staying.
Addictively quirky
Glamping sites are addictively quirky, cosy and romantic. They come in a variety of eclectic shapes and sizes, many with a story of former glory. Think shepherd's huts, bothies, tree houses, gypsy caravans, dome tents, yurts and wigwams.
Arriving at a new glamping spot, my inner girly-girl inevitably surfaces through squeals of "Aaaaw, this is so cute!" as I circle the exterior and poke around inside.
Location is everything when you go glamping, with many sites being strategically positioned for maximum seclusion or scenic-view satisfaction. Perhaps you'd like to sleep in a flower-filled meadow, or soak in a hot tub overlooking a loch.
Personally, I like to sit by a roaring fire after dark, before climbing into an actual bed which I'll roll straight out of and into the fresh country air the following day. I also really appreciate a wood burning stove, a hot shower, fairy lights and morning bird song – and with glamping, that's not too much to ask!
My three favourite glamping spots are all coincidentally located in pretty Perthshire, within close reach of my home city of Edinburgh. With so many cute towns, historic attractions, epic scenery and outdoor activities, Perthshire ticks all the boxes for a short break, and glamping is definitely the way to go. My Halloween weekend involved a visit to The Enchanted Forest, and a two night stay at a glamping spot which I first discovered two years ago.
Ecocamp Glenshee – Blacklunans
Myself and my friends stumbled across the absolute gem that is The Ecocamp in Glenshee during a search to find a glamping site which catered for groups.
The Monster Yurt was designed with us in mind, sleeping up to 10 people. We also booked a glamping pod for a power supply and to store our belongings, although this wasn't entirely necessary; there is a shared bothy with sofas, kitchen facilities and electricity sockets.
Although enveloped by fields, hills and dips, the Ecocamp is conveniently close to Blairgowrie, allowing you to stock up on essential glamping beverages and food products to cook on the BBQ and in the wood burner; burgers and marshmallows are always a priority.
Don't buy the supermarket eggs however – purchase fresh eggs from the resident chickens back at camp.
As well as chickens, the camp is also home to a trio of llamas which you can join on a trek, or simply chuckle at from over the fence. We were regularly visited by two mischievous geese during my first stay at the camp, and on my most recent visit I was delighted to meet some new four-legged additions; donkeys and goats.
Aside from fresh air and eggs, adorable animals and great facilities, the Ecocamp does as the name suggests, by focusing on sustainability and environmentally friendly practises. Locally sourced materials, self-sufficiency and recycling are embedded into the ethos here. As if that's not enough reason to stay, there is a choice of four different glamping options; the yurt, glamping pods, a bell tent and two shepherd's huts. Spoiled for choice really.
Ochils Edge Glamping – Newtoft Farm
Waking up to an amazing view is one of life's great pleasures. It really does take the edge off the ordeal that is climbing out of bed. This glamping site really deserves a gold star for views alone, and you don't even need to step outside the shepherd's hut to appreciate them.
The facilities at Ochils Edge are more basic than some of the other glamping sites I've stayed at, however this is to be expected considering its elevated position. I'll happily accept a composting toilet with zip-up walls in exchange for idyllic isolation and a huge feature window. Looking out said window is like having exclusive use of a cinema screen as it broadcasts a live feature of Perthshire's countryside. All enjoyed from the comfort of your double bed as flames flicker in the wood burner.
This glamping spot isn't far from the bustling city of Perth, however its remoteness is apparent in the time it will take you to traverse the windy, undulating roads and locate the elusive farm. Given its location and the fact that there is only one glamping hut, 'getting away from it all' really is the motto of this site.
It's worth noting that you can't take your vehicle up the hill, however your most hospitable hosts will give you a lift up there with your things. I stayed here when I visited The Enchanted Forest in 2014 and had a highly entertaining trip up the hill on foot after dark. I rewarded my efforts with a white chocolate cookie heated on the surface of the stove. I ate it as I stargazed from beneath the covers.
The Summer Howf – Craighead Farm
Definitely the most magical of my top three, the Summer Howf is nestled within immaculately manicured gardens on Craighead Farm, just outside Dunblane. Glamping here is easy like a Sunday morning.
M&S Simply Food is just a short drive away. Need I say any more? Once you're sorted with supplies you can park up outside the main house – the Muckle Howf – pop your things in the fridge in the shared kitchen/toilet block/honesty shop and follow the pebbled paths, through leafy archways and past little streams to the bright white summer house which awaits.
The summer house is blessed with a heavenly comfortable bed and electricity. Food can be cooked over an open flame, or on the handy outdoor hobs. Fairy lights and the glow from the fire pit light the darkness until you retreat inside, plug in the heater and burrow beneath the heavy duvet. Don't worry about setting an alarm, the local cockerel will ensure that you are awake bright and early to appreciate your scenic surroundings. How thoughtful!
Dunblane, Callander, Doune and Stirling are all within close proximity to this site, giving you the option of doing as much or as little as you like. Lovers of historic sites and bakeries are well catered for in this neck of the woods; I was in my element, naturally. Back at the farm, the gardens are there to be wandered around in. Be sure to say hello to the local wildlife, including horses, Highland cows and most randomly, ostrich.
As well as the Summer Howf, there is also a 'Wee Howf' at the other side of the farm; a little lodge with its very own lake and a stargazing window above the bed. Unlike the Summer Howf which is only open May – October, the Wee Howf is open year-round. A very tempting winter retreat I think.
Another one for my ever-growing glamping wish-list then.
Let's Visit Falkirk
In recent news, myself and Kim have both visited Eastern Europe this autumn; Kim was in Kaunas, Lithuania and I was in Lublin, Poland. Susanne on the other hand kept things local and recently enjoyed a weekend of walking in Glencoe and Glen Etive.
Going back to what we do best, myself and four of my fellow Scotlanders will be partnering up with Visit Falkirk on the weekend of the 14th November for our next campaign. Follow #VisitFalkirk and #Scotlanders for live updates showcasing the best of Falkirk's attractions, heritage, outdoors, activities and crafts.
---
More from Kay
Be sure to follow our adventures on Twitter using #Scotlanders, and check back to our Scotlanders' Corner page for our next update for The Scots Magazine!
You can follow my adventures on Facebook, Twitter,
and on my website.