A Sunday Stroll At Stobo Castle
---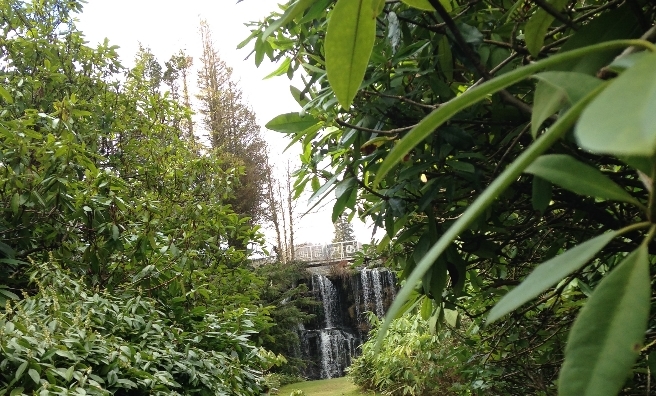 The Japanese Gardens at Stobo Castle
When it comes to Sunday Strolls, I have one stipulation – somewhere along the way, preferably at the end (although an early morning bacon roll or a mid-walk cuppie and scones never goes amiss), there has to be a wee drink and perhaps even something to eat.
Tea rooms, cafés, pubs and hotels tend to feature in my route plans – but I have to admit that my friend's suggestion that we start and finish our monthly Sunday Stroll at Stobo Castle health spa raised my expectations to a whole new level!
With afternoon tea at Stobo Castle booked, we set off on the Hill Loch Walk through the lovely Peebleshire countryside. A decent footpath and small yellow signs showed us the way and we were soon striding along, admiring the views and the fir trees which guarded our way like sentinels.
The world was reflected to perfection
The hill part of the walk was actually a gentle incline around Quarry Hill and, after branching left into a forest, we continued until we reached the loch, which is stunning. Without a breath of wind to disturb the water's surface, the world was reflected to perfection.
After walking along the banks of the loch, we crossed a slightly precarious bridge (no wobbles but also no rail to hold on to) over a steep fish ladder, slightly mesmerised by the water tumbling down the concrete steps. Next – the only 'climb' of the walk and as it only lasted for a few minute, it didn't interfere with our idea of a gentle Sunday stroll.
Back into the woods, snatching glimpses of the Weston Brn running alongside the path from time and which led to a fishing lake, with more reflections, Stobo Castle in the background and a pair of swans for added aaaah-value!
The walk finished at Stobo's famous Japanese Water Gardens, which are part of the Scotland's Gardens scheme. Created over 100 years ago by then owner of Stobo Castle, Hylton Philipson (wealthy mine owner, first class cricketer, Olympic and Wimbledon tennis champion, Captain of the England football team and a keen gardener), the gardens were inspired by his stopover in Japan on the way back from the 1895 Test series in Australia.
Cute Japanese lanterns and a charming tea house
Stobo's Japanese Gardens have been lovingly maintained over the years and feature dainty stepping stones, pretty bridges, breath-taking waterfalls, cute Japanese lanterns and a charming tea house. Our visit was in early March so colour was restricted to snowdrops and the deep green leaves of the shrubs and trees but when the rhododendrons and azalea are in bloom, these gardens must be spectacular.
Leaving the gardens, we walk back to Stobo Castle – and although our budget didn't stretch to an overnight stay, afternoon tea relaxing in the elegant dining room of one of Scotland's top health spas was a treat well worth walking for!
For more ideas about walking in Scotland, pick up a copy of this month's issue of The Scots Magazine. Click here to subscribe online.