Our April Issue 2016
---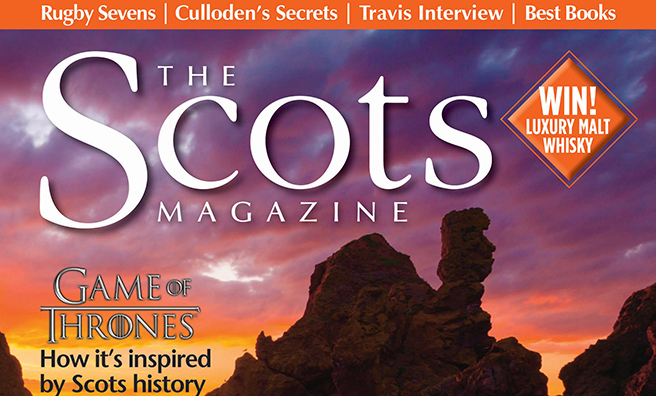 Check out the cracking line-up of content in our April issue
People
Gerard Butler returns to his macho finest for London Has Fallen
Fran Healy sees a new wave of success for Travis
Clare Grogan and Bill Forsyth look back on Gregory's Girl – 35 years on
Your news and views from our Mailbox
Creating a food community around discarded veg in Edinburgh
The legacy of Muriel Spark lives on ten years after her death
Leisure
Announcing the winner of our Photographer of the Year 2016 competition!
Chris Townsend's life of inspiration and adventure
Find the best in fact and fiction on the Scottish Bookshelf
Take a Hike around Stunning St Abb's Head
Bike route along the shores of beautiful Loch Ness
The Great Gear Guide – tried and tested kit for the outdoors
Carina's mouth-watering recipe takes the biscuit this month!
Places
Focus: 7 pages of ghostly shivers, nature and local delicacies of Aberdeen
Cameron McNeish bikes from Campbeltown to Inverness
Magnificent Sevens – the Olympic spectacle born in the Borders
Proof that there's more to the Cairngorms than skiing
Paul Coburn witnesses the remarkable re-birth of an dilapidated lodge
Discover the best of things to do in Around Scotland
Culture
Glasgow's international Art show is reinvented with an industrial theme
Scottish inspiration behind Game of Throne
Lisa-Marie's latest musical blog takes in grown-up club nights, Piano Day and Scottish blues
The Secrets of Culloden – what new evidence can be unearthed?
Nature plays a huge part in the history of Scone Palace
Ravens and Redwoods are Jim Crumley's theme this month
Slàinte mhath – our resident whisky expert Euan meets Miss Mortlach
Competitions
You're chance to win a copy of Chris Townsend's new book, a bottle of Mortlach Rare Old Whisky or a family pass to the Melrose Sevens!
Out now!
Our March issue is in shops now, and available through subscription.
There are loads of ways to get it digitally to your smartphone or tablet, too; just visit the app store, get a digital subscription here or visit the Readly app store.