Our April Issue 2015
---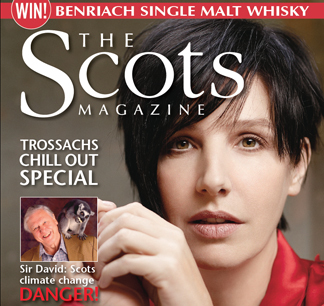 Our April issue is out now with an exclusive interview with Sharleen Spiteri on the 25th birthday of Texas, and a chance for you to win their latest album! Plus:
David Attenborough talks to us about "Scotland's inherent beauty" and the threat of climate change
We Focus in on Loch Lomond and the Trossachs in a stunning 6-page feature of where to go and what to do
The Scottish punk scene: from the 1970s onwards the legacy lives on…
Jim Crumley searches the moors for the curious Greenshank
Why Scotland's gaming industry is a ray of light in tough economic times
Spring arrives at last to Polly Pullar and Ardnamurchan
Taggart's Alex Nolan looks back at the more colourful moments in his career…
We find out about Dr John Rae – the lost Artic pioneer
Carina cooks up succulent roast lamb for an Easter family feast
On the 200th anniversary of Sir Walter Scott's Waverley, we take a look at his darker and lesser-known works
The world's oldest known insect was found in Scotland and we find out more about our fascinating fossil treasure trove
We bring you the very best events around Scotland this month
Erin Gavin tells us why her new role as Marilyn Monroe on a Hollywood stage is something she never dared dream of
Burns' poetry inspires up-and-coming musician Jamie McGeechan
Escaping city life… join the hutting revival!
Take a hike up Black Hill (which is every colour but black!) or get on your bike and follow the water's edge at Irvine.
The April issue of The Scots Magazine is in shops now – or you can order online by clicking here.