Big Push To Raise Funds for Edinburgh's St Columba's Hospice
---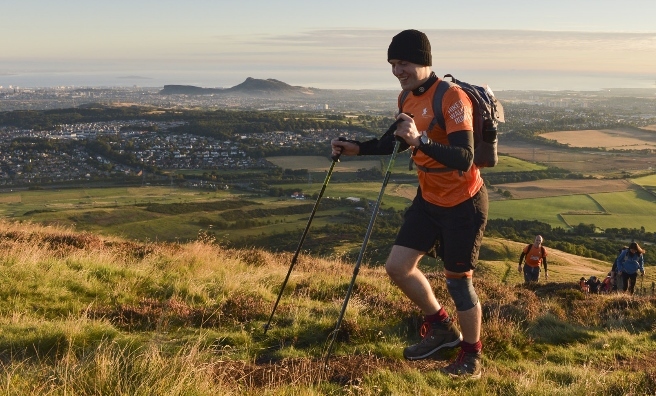 The stunning backdrop of Edinburgh provided a handy excuse to stop and admire the view! Photo by Ed Sharp Photography
In the lead up to Hospice Week 2015, which runs until October 11, hundreds of people took to the Pentland Hills on September 19 for a major charity fundraising event in aid of St Columba's Hospice.
The Push, which saw people walking, hiking and running up to a full marathon distance raised funds for St Columba's Hospice, which provides free-of-charge specialist palliative care to people from Edinburgh and the Lothians.
Participants were able to choose from three routes: 26.2 miles, 20 miles and 14 miles. Those doing the 26.2 mile and 20 mile routes began their challenge at 7am and the day also saw families and children from local primary schools taking part in The Nudge, a five mile route over the Pentland Hills.
'We are delighted so many people took part'
"It was a fantastic day to be out on the Pentland Hills, seeing all the participants doing their bit to raise funds for the Hospice," said Lesley Christie, Director of Fundraising at St Columba's Hospice.
"This is one of our major events and we are delighted that so many people took part. Funds raised will go towards the hospice providing much-needed specialist care and support our patients and their loved ones".
Caring for 500 patients a year in the in-patient unit
As well as caring for 500 patients a year in the in-patient unit, St Columba's Hospice also undertakes 3,000 visits to people in their own homes, and welcomes 1,000 visits a year to the day hospice.
The St Columba's Hospice's next adventure challenge takes place in May 2016 – for details of this and other fundraising events, click here.
---
Seven Songs for A Long Life
A thought-provoking documentary, Seven Songs for A Long Life, is currently screening in cinemas, hospices and community centres to support Hospice Care Week.
Funny, touching and passionate, this film looks at one of the key issues of our age: as a result of medicine changing our relationship with fatal disease, we can now live for years, rather than months, after a terminal diagnosis. Sometimes.
This beautiful documentary, filmed in Strathcarron Hospice, is more about life than death, celebrating the individuality of the patients, each with their own unique story to tell.
For your nearest screening, click here.