Black Bun Recipe
---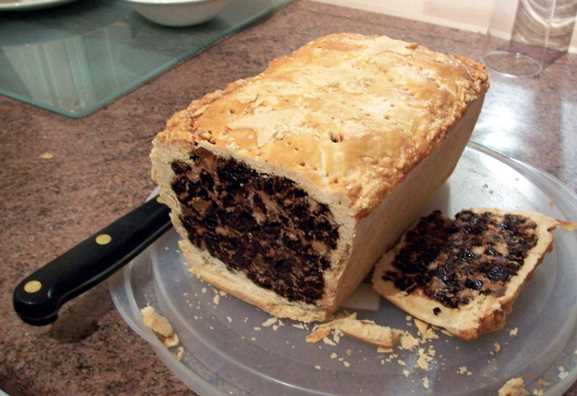 Black Bun - utterly delicious!
Black bun is a type of rich fruit cake completely covered with pastry. It was originally eaten on Twelfth Night in Scotland but is now more associated with Hogmanay. It's also a firm favourite with Oor Wullie and The Broons…
Auntie Lesley's Black Bun Recipe
Ingredients
Pastry Case
110 grams butter
220 grams plain flour
Pinch of salt
½ teaspoon baking powder
Cold water
1 egg, beaten
Filling
170g plain flour
One level teaspoon ground allspice
½ level teaspoon each of ground ginger, ground cinnamon,30 grams chopped mixed peel
½ level teaspoon baking powder
½ level teaspoon cream of tartare
Pinch of salt
Soaked fruit mixture: 450 grams seedless raisins, 450 grams currants, 60 grams chopped almonds, one tablespoon brandy – mixed together and left to soak overnight
110 grams soft brown sugar
30 grams chopped mixed peel
Generous pinch of black pepper
One large egg (beaten)
Milk to moisten (approx ¼ pint)
Method
1. Grease a loaf tin. Rub butter into flour, salt and baking powder, mixing in cold water to make a stiff dough.
2. Roll out pastry and cut into five pieces, using bottom, top and sides of the tin as a rough guide.
3. Press the bottom and four side pieces of pastry into the tin, pressing overlaps to seal the pastry shell.
4. Sift flour and spices, baking powder, cream of tartare and salt. Bind together with soaked fruit mixture and sugar, mixed peel, pepper, egg and milk.
5. Pack filling into the pastry-lined tin and add pastry lid, pinching edges and using egg to seal well. Lightly prick surface with a fork and make four holes in the bottom layer of pastry using a skewer. Depress the centre slightly (pastry lid will rise as it cooks).
6. Brush top of pastry case with beaten egg to glaze.
7. Bake in pre-heated oven at 325OF/160OC/Gas Mark 3 for 2½ to 3 hours, until a skewer comes out clean.
The Black Bun makes a great Hogmanay treat, but also the perfect home made First Foot gift – click here for more ideas!