Blair Castle Switches On Original Hydro Electric Scheme
---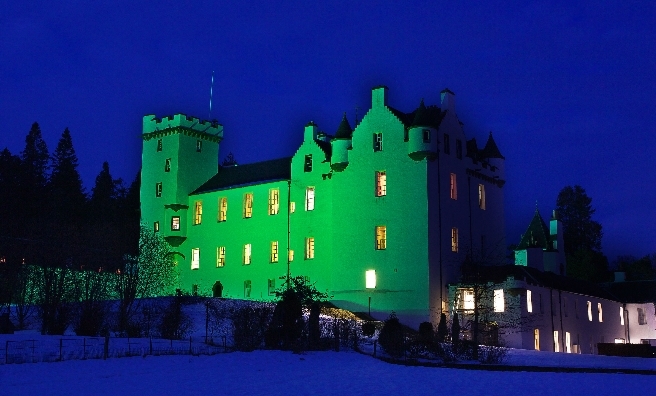 Blair Castle at night. Photo copyright Nigel Lumsden/Atholl Estates
As part of its efforts to be self-sustaining and environmentally friendly, Blair Castle has returned to Edwardian days by recommissioning its original hydro-electric scheme.
The Blair Castle hydro scheme, which was originally commissioned in 1908, will generate enough energy to power the castle, offering both financial and environmental benefits to the estate and surrounding area.
De-commissioned in 1951 after the arrival of the National Grid, the castle decided to re-visit the original hydro scheme to see if there was a way to develop an income stream to offset the increasing costs of maintaining Blair Castle. Now fully operational, electricity bills for the 13th century castle are a thing of the past.
Refurbishment of the existing powerhouse
A full consultancy team of hydro engineers, environmentalists and electrical specialists started construction of the re-commissioned hydro and refurbishment of the existing powerhouse in 2014. "We put a great deal of thought into how to refurbish the old power house," said Jamie Troughton of Atholl Estates, which is centred around the famous landmark of Blair Castle.
"The turbine generates about 85 decibels when it is running so, with the help of acoustic engineers at the design stage, the internal lining of the power house's brick shell was designed to contain all the noise to ensure that the building is completely soundproof."
Acknowledging Blair Castle's historic connections with British wartime history, the project team painted the external brickwork of the powerhouse in 1940s camouflage paint. There is also a viewing window into the power house with an external light switch illuminating the interior, enabling visitors to peer inside to see the turbine.
To mark the re-opening, Minister for Business, Energy & Tourism Fergus Ewing visited Blair Castle to find out more about the hydro-electric scheme and see the turbine for himself.
'Another story for the Castle'
"It is fascinating to see a working hydro-electric scheme from a century ago re-mastered and utilised in this way," said Fergus Ewing. "The team at Blair Castle and the engineers and designers working on this project have done a fantastic job of using the land effectively while being respectful of the surroundings .
"The power house itself is another story for the Castle to add to its rich history and I'm sure many visitors will enjoy learning about their impressive hydro-electric scheme.
"Their efforts are to be highly commended and it is projects like Blair Castle's hydro-electric scheme that places Scotland at the leading edge of green tourism."