Blue Moon – Cairn Gorm
---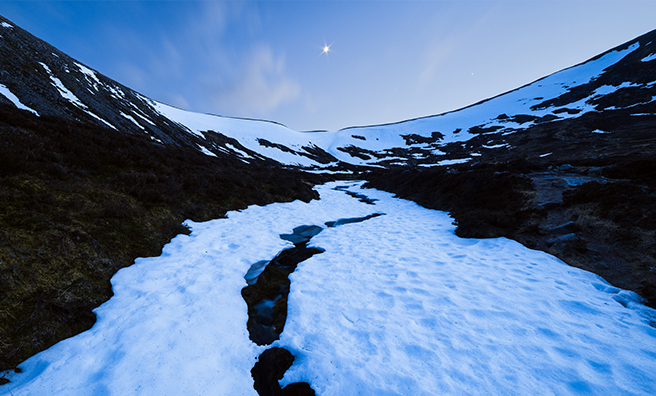 Blue Moon on the blue mountain
I KNEW it wouldn't be easy but this full moon chase is proving to be even trickier than I expected!
It's a lot to ask for decent weather on 13 specific dates in Scotland's mountains. When you factor in aiming at one particular mountain on each of these nights, too, and the odds diminish to somewhere south of winning the lottery.
Moonwalk No. 2 was a prime example. I had chosen Cairn Gorm for January 31 – Blue Moon on the blue mountain.
This Blue Moon is the second full moon in fall in the same month. It was also a Supermoon, because of its closer proximity to Earth, and a Blood Moon, courtesy of a reddish tinge seen from certain parts of the globe. There you have it – a Super Blue Blood Moon. Had this moon appeared in our skies a mere 24 hours later it would rise in February, and be named the Snow Moon.
"…there was a thunderous moaning from
the wind sweeping over the cliffs."
My plan was to approach through Coire an t-Sneachda – the corrie of the snows, as a tip of the hat to the absent Snow Moon – summit Cairn Gorm, then stroll around the corrie rims with the moonlight lighting up the cornices. The weather put paid to that; winds of between 35-50mph, strengthening to 65, and frequent snow showers bringing possible whiteout.
Patches of blue sky made me optimistic that I could reach Cairn Gorm via the Fiacaill a' Choire Chais, but standing among the boulders under the soaring faces at the head of this corrie, that mood shifted. Cloud was piling in and there was a thunderous moaning from the wind sweeping over the cliffs.
The skyline to the south was a black, fast-moving mass. Suddenly, the snow started driving across the corrie, the darkness became more absolute and everything disappeared.
Any attempt to go higher would have been foolhardy. There was no chance of seeing the moon, so I retreated, sticking to my bearing over ground now unrecognisable from the walk in.
Let's hope No.3 is a bit kinder.
---
More Moonwalking
---
---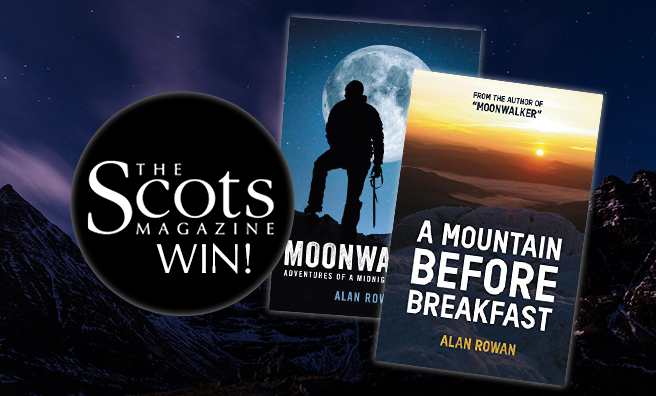 ---