In Bloom | The Bonnie Gardener
---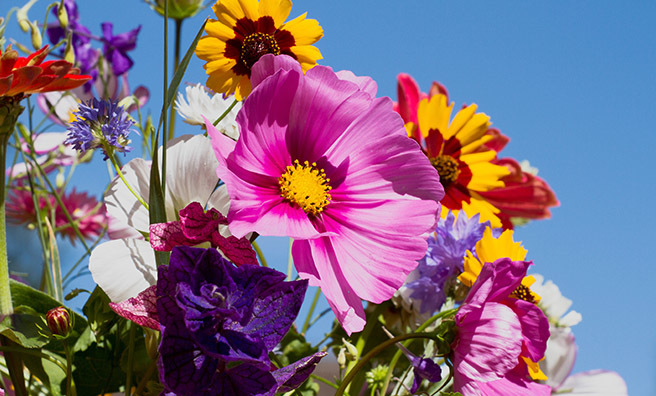 Bouquets of fresh flowers make wonderful gifts – and even better when you can say you grew them yourself!
I love having cut flowers in the house – their scent, colour and bloom really bring a room to life.
While house plants offer greenery and a splash of colour throughout the year, cut flowers tell a story of the changing seasons, and I love how the contents of a vase can vary so dramatically from spring through to winter.
July is arguably one of the most spectacular months for scented and colourful displays, with annuals like cosmos, scabiosa and dahlias showing their first flowers in the garden. Together with some foliage like ammi visnaga or freshly cut eucalyptus they can make for a simple yet perfect seasonal display.
My personal favourite though, is some freshly harvested pink sweet peas (Lathyrus 'Painted Lady' is particularly wonderful), served in a short vase on my bedside table. While the flowers only last a couple of days they are the scent of summer, and the bonus is that the more you cut the more you'll get in return.
Supermarket flowers vs. home-grown
Cut flowers are available in the supermarket all year round – whether you want tulips, lilies or daffodils you'll be able to get your hands on them regardless of the season.
While eating and sourcing food locally is a trend that's really taken off in recent years, unfortunately the same cannot be said for cut flowers.
While we grow so many beautiful varieties right here in Scotland, the vast majority of the tulips available in our supermarket are from the Netherlands, and lilies and some of the more exotic popular plants are grown on huge farms in Africa and South America.
This is done on vast scales and no doubt with a huge amount of chemicals to meet our never-ending demand for them.
While I'm not averse to buying supermarket flowers from time to time, I do find it far more rewarding to grow and use what's available nearby.
Earlier this year I built a fifth raised bed in the allotment – not to grow veg, but to have my very own cut flower patch. This move was inspired by an interview I read last year with gardener and television presenter Rachel de Thame, who told a captivating tale of how she decided to stop growing vegetables in her patch one year and grow masses of flowers instead.
How to grow your own
Ideally, if you want to grow cut flowers you should assign a dedicated, sunny part of the garden to do it in, and also an area that's protected from the wind to avoid the flowers getting blown over or dried out.
The main advantage of having a specific space for a cutting patch is that it avoids depleting beds and borders, as well as providing a more productive and planned gardening area to work from. It also makes it easier to plant or sow in rows which makes weeding and maintenance much more straightforward.
Having a year-round supply of cut flowers does, as I'm finding out, require careful planning…
If you want flowers for your arrangements throughout the year, you should think about nurturing them from a variety of different sources, including bulbs, corms and seeds. Planting bulbs and corms such as crocus, snowdrops , tulips and daffodils in early winter will ensure you get off to an early start in the spring, and you can extend the season by having early, mid and late flowering cultivars.
This year I've grown lots of annual flowers from seed for my new raised bed, including cosmos, dahlias and poppies. The disadvantage of course is that these have to be planted every year, but in my view it is worth the hassle – annual flowers really are some of the most beautiful. Think sunflowers, cornflowers and sweet peas.
Perennials in the form of herbaceous plants and evergreen shrubs also make a great addition to flower arrangements, and at certain points of the year can make for a lovely display with red berries.
As is the case with all things relating to gardening, though, growing cut flowers is a perfect chance to experiment with something new and to get creative. It opens up a whole new world of scent and colour that the supermarket simply doesn't offer – and saves a lot on air miles, so you can feel like you're doing your bit for the environment too.
Nicola will be back next week with a new instalment on garden design – and don't forget to enter our gardening competition below to win a copy of Garden Plants for Scotland!
---
Seven top tips
Warm water helps tightly closed flower heads, such as roses or ranunculus, to open fully.
If you are making a flower arrangement, add large, heavy flowers first turning the arrangement as you work to ensure even placement on all sides.
Most cut flowers need a good amount of sunshine in a sheltered spot to protect them from the wind and to stop them from drying out.
Start propagating sweet peas in the greenhouse in the winter to allow them to develop a good root system for planting out in spring.
Get a good quality composted green waste from your council and lay it on the surface of your soil before planting flower seeds.
A mix of hardy and half-hardy annuals and biennial plants and a tender dahlia will give you, from late spring to mid-autumn, enough flowers to make posies and fill small vases.
Allow shrubs to establish and settle into flowering before cutting.
---
More from Nicola