A Boost For Bannockburn
---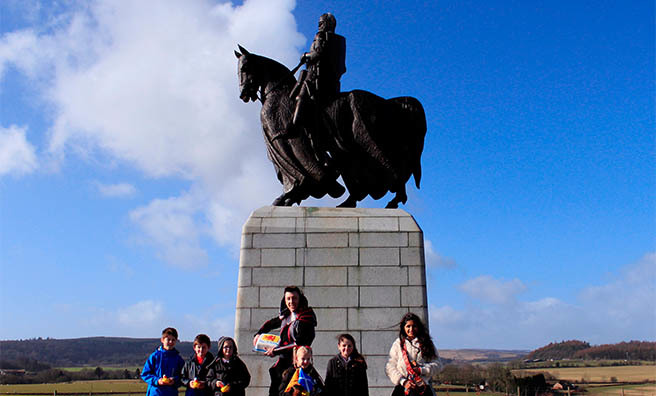 Pupils celebrate the centre's 1st birthday.
The Battle of Bannockburn experience has just celebrated the first birthday of its award-winning centre – and what a year it's had!
Ahead of the 700th anniversary of the Battle of Bannockburn last year, the centre was given a futuristic makeover to become the first heritage centre in the world to use Hollywood-calibre motion capture.
State-of-the-art technology immerses visitors in a 3D rendition of the battle, and resident Battlemasters bring the history of 1314 to life with drama and enthusiasm.
The new facilities have gained the centre some impressive accolades over the past year – including winning the Best Visitor Attraction award from ASVA, and the Best Building award from Stirling Society of Architects 2014.
Manager, Scott McMaster was thrilled by the public reaction to the site's new look, too, and is optimistic about its bright future.
"2014 was a huge year for Bannockburn, " he said. "We have been blown away by the response to the new facilities here and look forward to sharing this site and its amazing story with many more visitors throughout 2015 and beyond."
To celebrate the rejuvenated centre's first anniversary pupils from Borestone Primary served up birthday cake and took a tour of the centre, making them the latest in a line of some 6000 school pupils who have enjoyed a field trip to the centre over the past year.
The Battle of Bannockburn experience is open all year round, seven days a week, and ticket prices begin at £8.50.
To find out more about what you can expect at the centre, read our exclusive feature by full-time Battlemaster, David Weinczok, who tells us about his unusual day job…