Full Steam Ahead for Borders Railway
---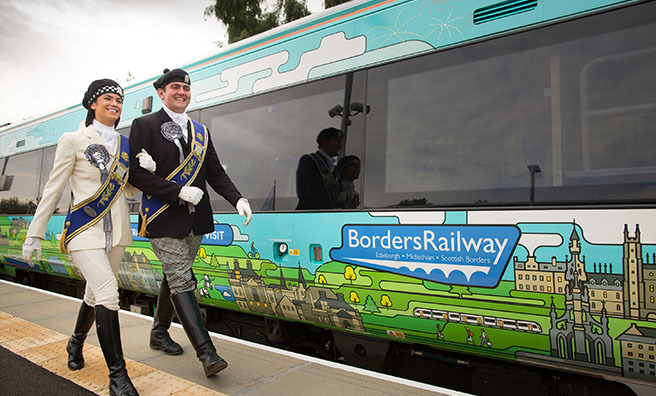 The long-anticipated Borders Railway line is running for the first time in nearly 50 years – and we were on the maiden journey!
Train services are now in operation between Edinburgh and Tweedbank for the first time since 1969 after a campaign spanning several decades.
I was lucky enough to be one of the first aboard the line's maiden train on Friday, September 4, in a journey packed with entertainment.
The end of a 50-year wait
Ambassadors were aboard from the National Mining Museum and Rosslyn Chapel (both of which are near new stations) and the enthusiasm from local councillors was infectious at this chance for their area to prosper, both economically and socially, from the new line.
We were joined, too, by an impersonator of Sir Walter Scott (Fergus John McCann), who orated Scott's love of the Borders Country and his joy of the reinstated door-to-door service (well, almost) between Edinburgh and his home of Abbotsford House.
About to board the first train from #Waverley to Walter Scott's "land of rolling hills and babbling streams" in 46 years! @BordersRailway

— The Scots Magazine (@ScotsMagazine) September 4, 2015

The railway's closure in 1969, as a result of the Beeching Report, had an adverse affect on subsequent development in the Borders, and some of those present had been campaigning for its reinstatement ever since.
"For fifty years, people in the Borders have campaigned to have their rail service reintroduced," said Scotrail Alliance MD, Phil Verster.
"I am sure that many people thought over that time that this weekend would never happen. I am so pleased that we have delivered this new line and so excited about what it will do for the area and for Scotland."
A direct link with the capital
It is hoped that the quick connection to Edinburgh Waverley will make the Scottish Borders a more accessible destination for holiday-makers – and also for commuters, businesses and trade.
Prior to the line's construction, only the twisting A7 single-carriageway connecting Edinburgh to Galashiels and Melrose, but now the train route will allow travellers to escape from the busy capital to Sir Walter Scott's "land of rolling hills and babbling streams" in under an hour.
An amazing 650,000 passengers are expected to use the route within the next year, in what is possibly the best thing to happen to tourism in the Scottish Borders since the Melrose tart.
In a double celebration, The Queen officially opened the line on Wednesday, September 9, and enjoyed a journey along it on the day she became Britain's longest-serving monarch.
She appeared touched by the warm welcome that greeted her, praised the area's beauty, and was determined not to let even her own celebrations overshadow the significance of the railway's opening.
"The Borders Railway brings so much promise for sharing and invigorating this most beautiful countryside as a place to work, live and enjoy.
"Many including you, First Minister, have also kindly noted another significance attaching to today, although it is not one to which I have ever aspired. Inevitably, a long life can pass by many milestones; my own is no exception. But I thank you all, and the many others at home and overseas, for your touching messages of great kindness.
So now to the business in hand. It is my very happy duty to declare the Borders Railway open."
The Queen is greeted by crowds at Newtongrange as she opens the @BordersRailway station pic.twitter.com/ZqxZSlex6X

— BritishMonarchy (@BritishMonarchy) September 9, 2015
As well as regular services, a series of steam train excursions are available from September 10, but these are selling fast with fewer than 200 tickets left out of an initial batch of more than 5,000.
Let us hope this initial excitement continues and the Borders benefits greatly from this fantastic new service.
You can find out more about the services and surrounding area of the Borders Railway on the dedicated website, here.  
---
Facts and Figures
The Borders Railway is the longest UK domestic railway line to be laid in 100 years
It comprises 1,000 tracks over 100,000 sleepers over 137 bridges

Shawfair, Eskbank, Newtongrange, Gorebridge, Stow, Galashiels and Tweedbank all have b

rand-new stations along the route
The line was delivered on time – and on budget!