The Peak Of The Deer Under A Buck Moon
---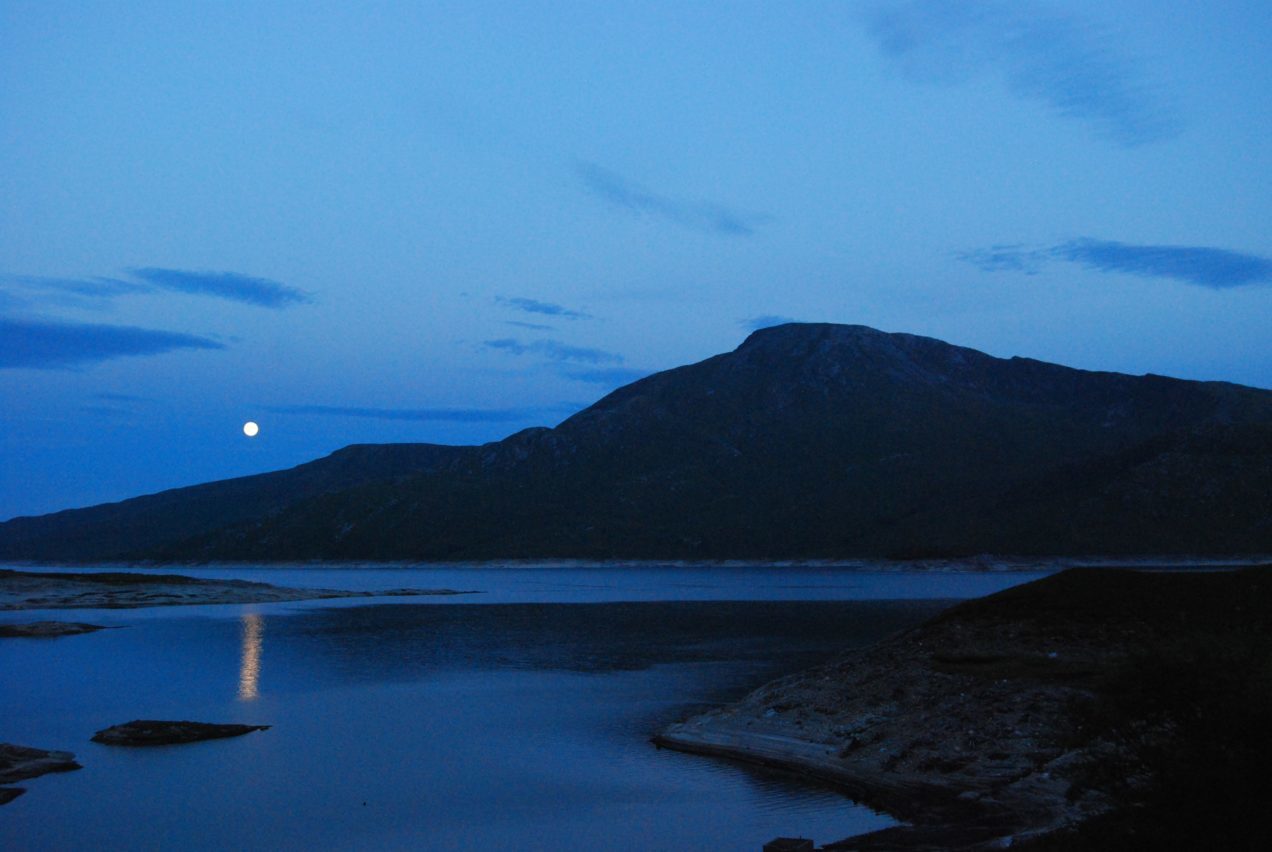 It was a long night under the
Buck Moon, but Alan Rowan
finally found a fitting tribute
I'VE been lucky to have had three perfect full moon walks in a row but the Buck Moon promised to be the most exciting yet. Not only was this the eighth full moon of the year, it just happened to coincide with the longest lunar eclipse of the century.
This also made it a blood moon, so-called because the moon appears to glow a rusty red during the eclipse as it passes across the Earth's shadow and its brightness starts to fade. The chances of seeing this spectacular show from Scotland were not good. With this in mind, I decided to hedge my bets and go out twice in the same 24 hours.
Finding A Mountain To Match
First, I parked by Loch Quoich where the names of the Munros reflect the prevalence and importance of deer.  There's Gleouraich, which means roaring, and its partner, Spidean Mialach, peak of the deer. Across the water is Gairich, another mountain which suggests the bellowing of the stags.
I was greeted by a wonderful sunset, then watched the moon rise and strengthen over Gairich as I waited for midnight and the turn into July 27, the date of the full moon.
The stalkers' path up Gleouraich makes for fast progress, even in the dark. The moon was glowing yellow when I reached the summit but its light had faded and the next section needed some careful foot picking until I had reached the bealach.
I dropped my pack for a drink and by the time I had lifted it again, Spidean Mialach had appeared. The first light of morning had come in a flash.
There were hundreds of deer on the slopes, and I finally got a good sighting of a young buck, antlers seeming to glow silver with the sunlight flashing off velvet.
That evening I drove to Achnasheen – appropriately the field of the storms – in deteriorating conditions to wait for any sign of the blood moon or even a thunderstorm. I got neither.
My decision to go earlier had been vindicated. Eight moons down, five to go.

This Buck Moon expedition was
hike number eight on Alan's mission
to "bag" all 13 full moons this year.
You can read all of his 2018
Mountains Of The Moon blogs here.