Campaign For King's Panto
---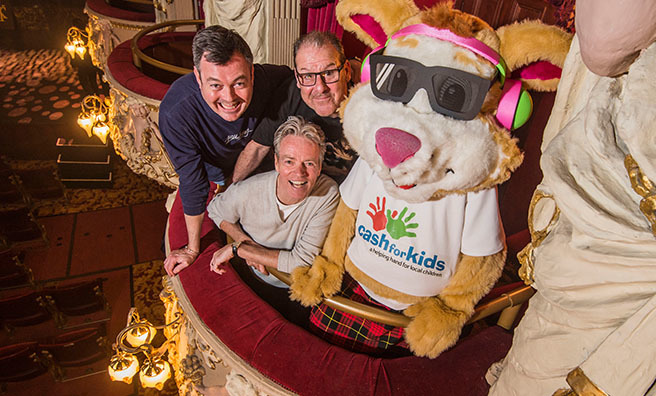 A campaign has been launched to fund another relaxed panto at the King's Theatre after successful opening night.
January saw the first ever relaxed performance of a pantomime at the King's Theatre, and it was such a success that Forth 1's Cash For Kids has decided to support the event again next year.
This week they launched their fundraising campaign to raise the £30,000 needed for a relaxed performance of Snow White And The Seven Dwarfs to take place next January.
Stars of this year's panto, Allan Stewart, Andy Gray and Grant Stott, posed with the Cash for Kids mascot, Courage the Cat, to launch the campaign to take 1000 children and their carers from the city's special schools to the King's panto.
"We're delighted to be doing the relaxed panto again," said Allan. "We had such a great time last time – the children loved it and it reminds us all that theatre and panto is for everyone."
Relaxed performances designed to welcome people with a range of additional support needs including Autism Spectrum conditions and other sensory and communication disorders.
Attitudes towards noise and movement in the auditorium are relaxed, and small changes are made to the light, sound and special effects.
Forth 1's Mark Martin described the first relaxed panto performance event as a magical morning.
"If you ever wonder where the money you raise for Cash for Kids goes," he said, "it goes towards days like this that transform children's lives."