Edinburgh Zoo's Chimpanzee Chat!
---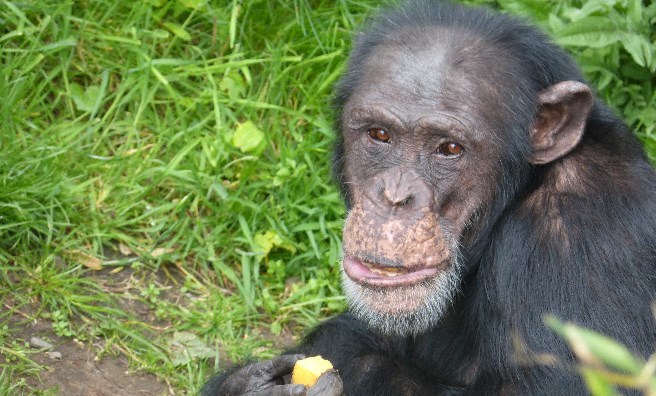 Frek, one of the Bekse Bergen chimpanzees. Photo by Jamie Norris
New research led by scientists from the University of York and University of Zurich in collaboration with the Royal Zoological Society of Scotland has shown that chimpanzees pick up accents from their chimp chums from other parts of the world.
Researchers found that chimpanzees give distinct grunts when they find different types of food – and not only do other chimpanzees from other groups understand the meaning of these grunts, in time, they will modify the structure of their grunts so they sound similar to those of their friends.
The ability of chimpanzees to pick up accents was discovered when nine adult chimpanzees from Beekse Bergen Safari Park in the Netherlands moved in with the 10 resident chimpanzees at Edinburgh Zoo's Budongo Trail enclosure in 2010.
The Dutch chimpanzees' grunts had become very similar to those of the resident Edinburgh chimpanzees
Researchers found that, before integration of the two groups, the animals had different grunts for apples. However, three years after integration, the Dutch chimpanzees' grunts had become very similar to those of the resident Edinburgh chimpanzees.
The research team also found that simply living together for a year and being exposed to the other group's different calls for apples was not enough to motivate any changes in call structure.
In fact, it wasn't until 2013, when strong friendships had been established between members of the two groups, that the call structures converged, proving the power of pals!
Listen to the chimps!
---
The Budungo Trail
Edinburgh Zoo's Bundungo Trail features three 'pods' which vary in temperature, light and humidity to reflect the conditions of chimpanzees' natural rainforest home.
The Dutch chimpanzees started life in a research laboratory before being rehomed at Beekse Bergen Safari Park and then moving to Edinburgh.
The RZSS, owners of Edinburgh Zoo, support the Budongo Conservation Field Station in Uganda, where many projects take place, including monitoring chimpanzee health and dissuading hunters from setting bush meat snares.