A Climber's Four-Footed Friend
---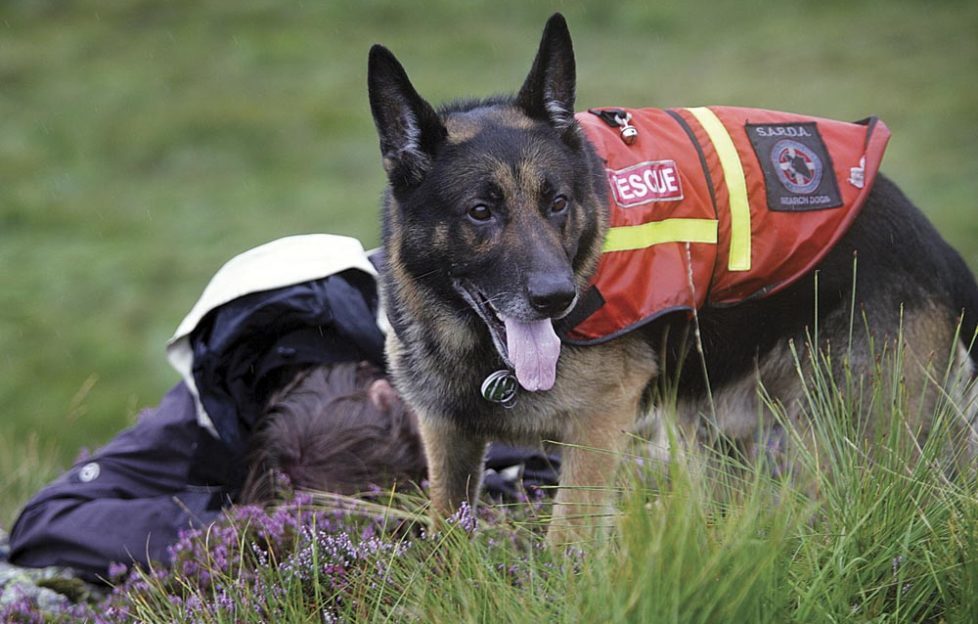 Search dog Angus
A man's best friend is his dog, or so the saying goes.
In a search and rescue capacity, dogs have been invaluable over the years, used in the First World War to locate injured personnel, and during the Blitz they would find people buried in buildings.
In the climbing world, St Bernards were the first mountain rescue dogs, used by priests to save travellers attempting to reach their monastery, based 2,400 metres up in the Alps.
It was the drive and determination of a Dumfries and Galloway man, inspired by modern-day Swiss rescue dogs, that saw Dr Hamish MacInnes form the Search And Rescue Dogs Association (SARDA) where the age-old trust between man and dog is clearly evident.
Hamish, now one of the world's most famous mountaineers, completed his National Service in the late 1950s in the Tyrol and returned to Scotland with an idea that was to revolutionise Scottish mountain rescue – specially-trained dogs to search for avalanche victims. He had become friends with mountain guide Hans Spielman whose two dogs carried out this task, and while the rescues were somewhat haphazard affairs, Hamish realised that if the concept was developed in Scotland it would add a significant benefit to the work of Scotland's mountain rescue teams.
Hamish was the first Briton to attend an avalanche dog training course – in Switzerland in 1962 – and he then continued to perfect the art in his beloved Glencoe, encouraging others to join him. In May 1965, SARDA was born and it is now an organisation of dogs and handlers on 24/7 stand-by and ready to set out in some of the toughest weather conditions imaginable.
The role of SARDA is one recognised by climbers and hillwalkers alike, and Cameron McNeish is no exception.
"Isn't it amazing that in these digital days of high-tech science we still rely on the scenting instincts of dogs?"
"Isn't it amazing that in these digital days of high-tech science we still rely on the scenting instincts of dogs to find missing people?" he says. "Since time immemorial, dogs have been used to hunt and to search and I find it comfortingly reassuring that man's best friend still has such an important role to play, particularly in mountain rescue situations. I wonder just how many climbers or hill walkers have experienced the relief of hearing a barking dog lead rescuers to where they have been buried in snow or lost on a hillside. The work of the Search and Rescue Dog Association is invaluable."
SARDA Scotland remained a single association until 1983 when it divided into two sections, Highland and Southern. It consists of 22 teams of dogs and handlers. It's impossible to guess what it would be like to be rescued by a SARDA dog, who rely on their acute sense of smell to trace any hapless mountaineer who has succumbed to the horrors of an avalanche. Humans lose 20,000 to 30,000 dead skin cells every minute and this makes up our "scent". A dog's sense of smell is thought to be 1,000 times more sensitive than our own, but strength and fitness is also needed to cope with the physical demands of the job. I spent a day with SARDA Highland training near Newtonmore, and found it an educating experience. Those dogs are good!
Here's hoping that none of you ever get lost in the hills or stuck in avalanche debris. If you are, and if anyone's going to find you, it could very well be a four-footed SARDA friend.
---
SARDA Facts
Founded in 1965 by Hamish MacInnes
On call 24 hours a day, 365 days a year
A dog's sense of smell is thought to be a thousand times more sensitive than our own
Affiliated to the Mountain Rescue Committee of Scotland
More details at www.sarda-scotland.org