Cruising the Caledonian Canal
---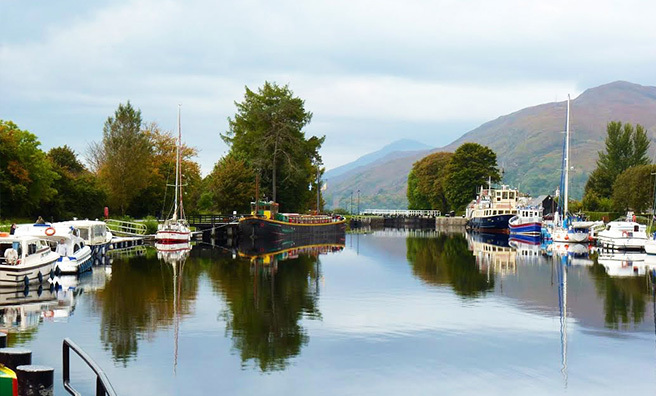 Susanne from the Scotlanders takes a ride along the Caledonian Canal for a more relaxing way to explore the Highlands
As our colourful Belgian barge pulls away from Inverness, I'm sat round a large wooden table, sipping on a cup of welcome tea and trying desperately to remember the names of my fellow passengers as they introduce themselves one by one.  I fail miserably, only managing a feeble three out of eight but then again I am a bit distracted taking in the surroundings of my new home from home as we cross the Highlands of Scotland from east to west.
Our journey with Caledonian Discovery on board Ros Crana will take us from our starting point at Inverness to our final destination at Banavie near Fort William.  A distance that could easily be covered by car in less than two hours will take us seven days, the ultimate slow travel experience, but then again the Highlands of Scotland are somewhere that should be savoured and appreciated.
Not many people realise that exploring the Highlands by boat is a viable option, but thanks to the construction of the Caledonian Canal you can travel from coast to coast through the Great Glen; a long, straight valley which slices the Scottish Highlands in two.
An impressive feat of engineering
Construction of the canal was authorised by an Act of Parliament in 1803 to link the west and east coast of Scotland, allowing vessels to avoid the risky journey around Cape Wrath. The famous engineer Thomas Telford subsequently produced the plans for what has been recognised as an impressive feat of early 19th Century engineering, which is now protected as a Scheduled Monument. The 60 mile long route connects four lochs with man-made waterways and during its construction, provided much needed employment to those struggling after the Highland Clearances.
Today it is mainly private pleasure craft that regularly make the journey along this alluring waterway, with alternative options to walk, cycle or canoe its length.  As I found out, Caledonian Discovery have devised a unique Classic Cruise that provides an opportunity to do all these activities and more, with the convenience of the barge acting as a floating hotel base during your trip.
While I could have spent the week on deck, watching the world go by at an easy pace, it would have been a shame not to take advantage of the options to walk, cycle, canoe or sail part of the journey with all equipment provided and an onboard instructor at my disposal.  Two of my highlights were my first sailing lesson which took place on a choppy Loch Ness and my first attempt at canoeing on the much more tranquil waters of Loch Oich.
During my week I really felt as if I was off the beaten track; discovering hidden gems and reaching areas only accessible by boat.  Most of all I enjoyed watching the imposing mountains, native pine forests, tumbling waterfalls, an abundance of wildlife, historic buildings and generally spectacular scenery drift by at a wonderfully laid-back pace.
Back on dry land
I followed my water based Highland adventure with a trip much more terra firma based when I returned to Glencoe and Glen Etive for a weekend of walking.  This is an area I love to visit at any time of year, but the autumn is particularly atmospheric and basing myself at the SYHA Glencoe, I took advantage of its convenient location to explore some of the local trails.
In true Scottish fashion the weather gave a weekend of two halves with Saturday rain followed by a Sunday of blue skies and perfect conditions, which meant I went a bit photo crazy, but with such a dramatic landscape could you blame me?
From the Highlands my next stop took me to the Big Tree Country of Perthshire, one of the prettiest places in Scotland to enjoy the colours of autumn.  My arrival coincided with that of Storm Abigail, though, and I was happy to hibernate in my cosy country house accommodation at The Killiecrankie Hotel, complete with a toasty open fire!
Once the gusty downpours had subsided, I made the most of the hotel's scenic location with a drive along Loch Tummel and a stop to enjoy the panorama at Queen's View.
Finally, as Neil mentioned in his last article, I met up with my fellow Scotlanders in Falkirk for our final campaign of our premier year.  This also gave us an opportunity to discuss our plans for the year ahead and we are already starting to work on some new ideas.
With our passion for showcasing Scotland to the world stronger than ever, 2016 will hopefully see Scotlanders continue to go from strength to strength.
---
More from Susanne
Her previous blog for us: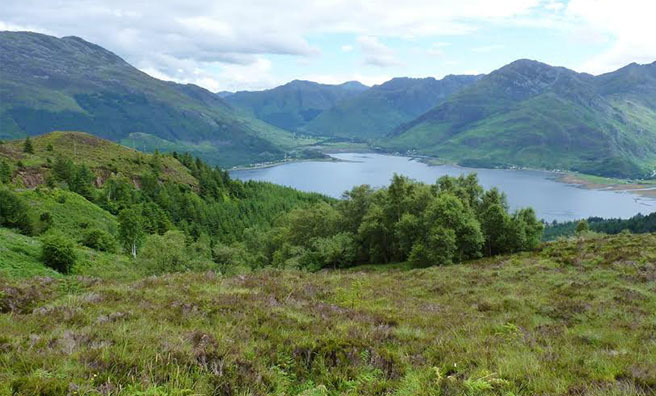 For more great travel tips and images from around Scotland, visit her online blog: Adventures Around Scotland.
You can also find her on Twitter, Facebook and contributing to the Scotlanders blog.