Curtain Up!
---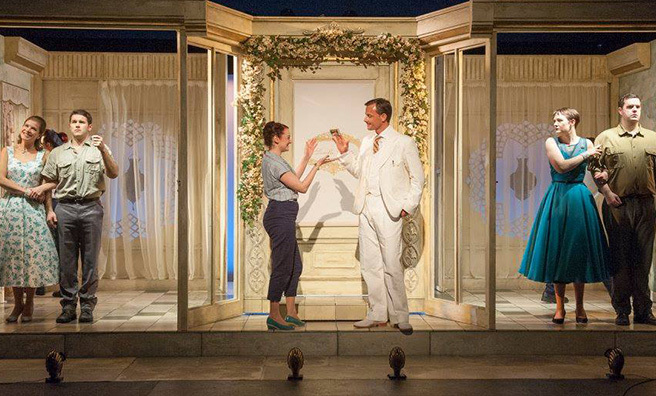 Scottish Opera's Cosi fan tutte - at Elgin this week
Hello and welcome to the Scottish Opera Tour Blog! My name is Rosalind Coad and you'll be able to check in with me once a week to hear all the backstage news from our tour of Così fan tutte.
I can't believe the first week of the tour is already over. After just four weeks of rehearsals, the show went up at the Macrobert Arts Centre in Stirling last Thursday (Sept 24).
First nights are always a little nerve-wracking, but my main concern that night was that we hadn't yet managed to get through a run of the show without someone in the cast dissolving into fits of giggles. From migrating moustaches to a perfume bottle sending an endless and uncontrollable stream of water across the stage, there always seemed to be some sort of prop or costume malfunction causing hilarity at all the wrong moments!
Final preparations
We have a lovely tour bus which dropped us off four hours before curtain up. My pre-show routine is fairly easy but Jenni and Sarah (playing Despina and Dorabella) have slightly complicated hairdos which take a little while to perfect, so we need to arrive in plenty of time for them to get their hair done and still have all the time they need to warm up their voices and prepare themselves for the show.
The Macrobert has a lovely modern theatre but, as with most of the venues on the tour, not built with opera in mind. We immediately noticed that the acoustic is a little dry – not a problem for actors, but an extra challenge for opera singers as it helps if we can hear our voices ring around the auditorium.
That ring reassures us that the sound is carrying over the accompaniment and out to the audience with ease and to lose it can feel disconcerting. This is one of the biggest challenges of doing a tour like this – every space is different and the first time we sing out full-voiced on the stage will probably be in front of the audience, so we won't feel the challenges of each new acoustic until we're up there in front of you.
Maybe you'll be my next Ferrando or Guglielmo!
Sight lines can also be an issue as the shape and size of every theatre is different. The Macrobert has a raked auditorium, so most of the audience are looking down on the stage, whereas in Helensburgh, our venue for the second night, most of the audience were seated on a level floor and looking up at a raised stage. Singing to a raked auditorium like the Macrobert is lovely. Rather than singing straight over the heads of your audience, there will always be some people at eye level, wherever you look, so it's easy to feel that you've made a connection with them.
In a dark theatre you can see just enough from the stage to choose individual members of the audience to sing to at certain moments without making them feel uncomfortable. This is a particular gift for me during Act 2, when Fiordiligi sings a lengthy aria entirely alone on the stage. I will pick a couple of people in the audience and in my imagination, turn them into the other characters in the show. So who knows, maybe you will be my next Ferrando or Guglielmo!
The first night at the Macrobert went down a storm. We had a fantastic audience who laughed a lot – mainly in places we hadn't realised were funny!
Tristan (our Ferrando) did spend most of the Act 1 finale with his moustache attached to the wrong end of his body entirely (his arse) but apart from that it went without a hitch – no giggles from the cast and no memory lapses! Phew!
On the road…
When we arrived in Helensburgh for the second night, we learned that the stage was smaller than we had expected and our set didn't fit! We have an incredible backstage crew who travel ahead of us, however, they had it all ready to go by the time we arrived to rehearse, taking into account the smaller stage size.
If you come to see the show, you may see some of this amazing crew around the theatre – you'll know them by their black Così fan tutte t-shirts. They are very talented and hard-working, taking down the set immediately after each show and often staying in the theatre until the early hours of the morning to get it all packed up.
They then travel ahead of the cast to the next venue in order to get everything up and running in time for our arrival. If you see them, go and shake their hands, or even give them a hug or a bacon sandwich! I will introduce some of them to you properly over the next few weeks.
That's all for now. To our audiences in Ayr, Kelso and Dundee this week, see you there and enjoy the show!
Check back here next Thursday, October 8, when we'll have a new update from Rosie and the Così fan tutte cast and crew.