Dare You Take The Ghostly & Gruesome Trail?
---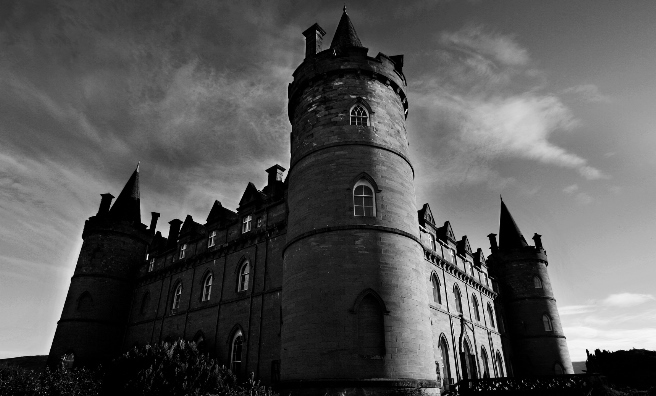 Inverary Castle, another of Scotland's haunted homes.
Are you ready to step into a world where everything is not always as it seems? Whether you're an avid ghost hunter, a lover of historic houses or just looking for an adventure, we dare you to go on the Historic Houses Association's Ghostly and Gruesome Trail!
Delve in and tread the floorboards that former staff roam, and where lovers have met their tragic end. Explore rooms in which soldiers have stayed and not yet left. Visit the chapels that still hear monks praying and feel the torment and humiliation of witch trials.
Are you brave enough to visit beautiful historic houses where the current occupiers share their quarters with the ghosts of their generations past? Where spirits roam their former bedrooms, kitchens and gardens, and where walls and floorboards have seen death and tragedy?
The Ghostly and Gruesome Trail links properties around the UK which are either believed to be haunted by the spirits of yesteryear or have seen misfortune and troubles. The three Scottish properties which feature in the trail highlight Scotland's popularity with ghosts, ghouls and things that go bump in the night.
The most haunted castles in Great Britain
There's Glamis Castle, known as one of the most haunted castles in Great Britain, with a nobleman destined to play cards with the Devil for eternity, a White Lady and a mischeivous ghost who likes to trip up visitors! Inverary Castle, which has at least three ghosts, including a ghost ship, is also on the trail, as is Craigenputtock House in Dumfries & Galloway, which may not have any ghosts but was the scene of a dastardly ploy in the days of the Jacobites.
Chillingham Castle in Northumberland is just over the Border so may well have a few Scottish ghosts! "Chillingham has been famously haunted for centuries," said Sir Humphry Wakefield Bt. of Chillingham Castle.
"After a thousand years and a thousand murders, eight executions and constant Castle attack and assault, of course we have ghosts. My relations have been in the thick of that military and romantic action for eight of those centuries so we see and feel those ghosts and most certainly have their protection."
To find out more, access the trail here and click on the pins to uncover the stories. Please check opening dates and times before visiting any of the properties listed.
For lots more places to visit across Scotland, pick up a copy of this month's issue of The Scots Magazine. In the shops now or order online by clicking here.
---
Featured Properties
East of England: Woburn Abbey, Knebworth House, Walsingham Abbey, Harlington Manor
East Midlands: Tissington Hall
London: Fulham Palace
North East: Chillingham Castle
North West: Muncaster Castle, Levens Hall, Salmesbury Hall, Astley Hall
Scotland: Inveraray Castle, Craigenputtock House, Glamis Castle
South East: Dorney Court, Beaulieu
South West: Chavenage House, Athelhampton House, Iford Manor, Longleat House, Tiverton Castle, Prideaux Place, Old Bowlish House, Powderham Castle
Yorkshire: Newby Hall, Kiplin Hall, Ripley Castle, Goldsborough Hall, Burton Agnes Hall, Norton Conyers