Dig Art! 2015 Competition
---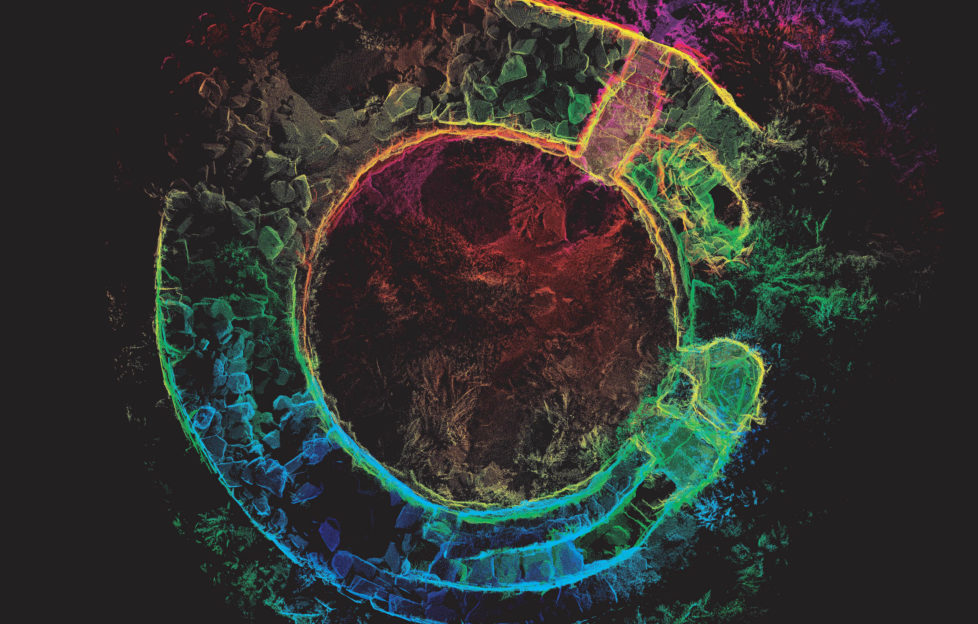 Putting the Art in Archaeology - advanced technology is applied to Caisteal Grugaig, an Iron Age broch. © Forestry Commission Scotland
Grab your cameras, pencils, paintbrushes and trowels; Dig Art! 2015 is uncovering Scotland's creative archaeology potential
A new art and photography competition from Dig Art! 2015, is now open, with the winning entries to be exhibited as banners in Glasgow!
The European Association of Archaeologists Glasgow 2015 Conference (held in Scotland for the first time) will see thousands of archaeologists from across Europe flock to the city.
Dig Art! 2015 is open to all and there are three age categories: Novice (under 16), Apprentice (16 to 24) and Artisan (25 plus).
The organisers are looking for everything from paintings and sculptures to archaeological plans and sketches. Inspiration doesn't need to come exclusively from digs, either, as 'archaeology' can range from prehistoric arrowheads to imposing industrial landscapes.
Celebrating artistic creativity and sharing Scotland's vibrant archaeological heritage
In addition to the exhibition in Glasgow, a range of behind-the-scenes trips and private tours, archaeology kits, photography courses and Historic Scotland Explorer Passes are also up for grabs
Further prizes will be announced throughout the competition, and a panel of expert judges, drawn from the worlds of archaeology, art and photography, will pick winners from each category.
One of the confirmed panel members is celebrated landscape photographer, Professor Thomas Joshua Cooper.
"Dig Art! 2015 provides a great opportunity for people to join in and have their work showcased on a massive scale to local and international audiences," he said.
The competition is being coordinated by Dig It! 2015, the year-long celebration of Scottish archaeology, and Forestry Commission Scotland, who encourage everyone to be inspired by the natural and cultural heritage within Scotland's forests and woodlands.
"This is a wonderfully innovative competition and I would encourage people of all ages and levels of artistic ability to enter," said Fiona Hyslop, the Scottish Government's Cabinet Secretary for Culture, Europe and External Affairs.
"I'm hopeful that we will attract a wide variety of pieces from a range of perspectives, celebrating the many faces of archaeology in Scotland."
A series of mini-competitions will run on Twitter and Instagram throughout the Dig Art! 2015 competition. #DigItBuildIt, for example, will encourage people to present archaeology in a range of forms such as cake, Minecraft, Lego or even yarn.
Entries to the main competition are welcome until midnight, Sunday, July 19. For additional details, click here.
Top image: Galloway Picts Project, GUARD Archaeology Ltd, Dumfriesshire & Galloway Natural History & Antiquarian Society
Putting the Art in Archaeology – advanced technology is applied to Caisteal Grugaig, an Iron Age broch. © Forestry Commission Scotland

---
Competition Categories
"Snap It!" encourages the use of photography to capture a site, monument, object or the people who visit or even uncover them.
"Wish You Were Here" seeks photographs which put the archaeology, and perhaps its visitors, within the drama of its wider landscape setting.
"Archaeology Is…" Mysterious? Beautiful? Muddy? This category is seeking artistic responses to archaeology and the medium is entirely up to you.
"Putting the Art in Archaeology" allows archaeologists, from dig volunteers to site directors, to present their artistic examples of plans, models, drawings and reconstructions.