Running A Driveway Marathon!
---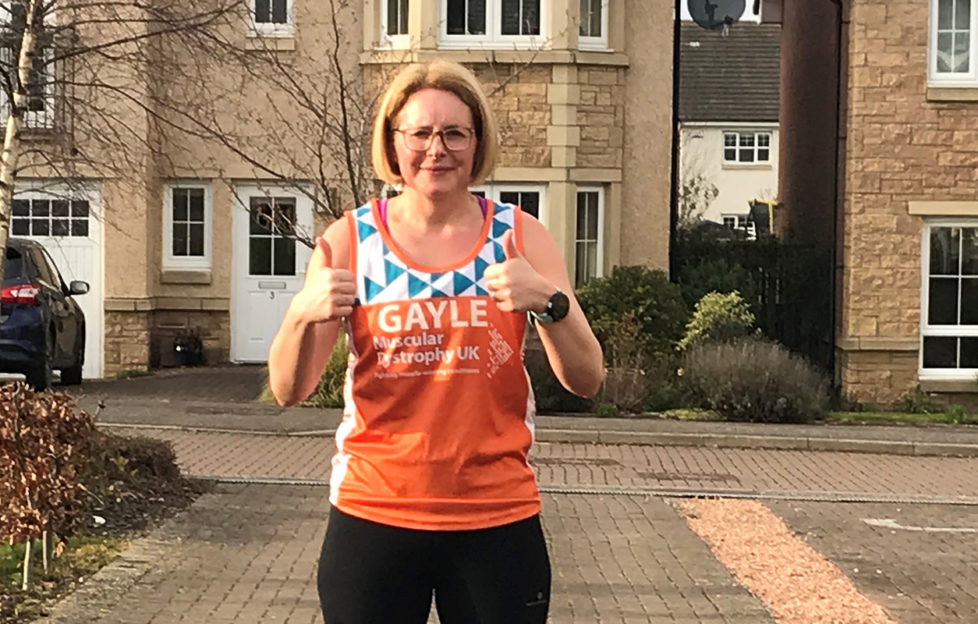 Despite lockdown, Gayle Hoy from Kirkliston decided to run a postponed marathon from her own home…
Gayle Hoyle, 42, was disappointed when she heard that the marathon she had been training for since last November had been postponed. This threatened the £10k she was determined to raise for Muscular Dystrophy UK (MDUK).
With the reality of coronavirus causing her three children's schools to close, the need to start home-schooling, her husband working from home and then lockdown, she realised she had to look for an alternative if she was to keep her 2020 marathon challenge dream alive.
Undeterred, Gayle ran the first marathon in her drive!
Gayle had originally planned to run the Manchester Marathon on 5th April, the London Marathon on 26th April and then finally the Edinburgh Marathon on 24th May. Instead she ran the Manchester Marathon from home by running up and down her rectangular driveway about 655 times, taking about six hours to complete the 26.2 miles.
"I regularly run on my own and I ran my first ultra-marathon last year where the crowd was very limited. So I am used to being able to keep going without the crowds and atmosphere." says Gayle. "I have found great comfort in running over the last few weeks as uncertainty has grown."
Gayle completed her driveway run on Saturday, running for Elliot's Fighting Fund, an MDUK Family Fund. Gayle's JustGiving total is at £6083.35. Of this, the amount raised over the weekend was about £1900. And her amazing triumph was streamed on Facebook Live.
"My Mum and Dad and my brother and his family who live over in Fife were watching me. As was my 93-year old granny, who impressively is on Facebook and knows how to use it!" Gayle says.
She hopes to raise £10k this year, with fundraising events, raffles and sponsorship raised through her runs
These funds will go towards supporting people with muscle-wasting conditions, and vital research into treatments and cures.
"I'm delighted with how Saturday went!" she says. "The virtual support and socially distanced support from my family, friends and neighbours was tremendous! It was great doing the marathon in my driveway as there was no worries about getting there on time for the start. However, the route itself was pretty gruelling, with 7 turns on each lap and running 655 laps to do the distance (26.2 miles) meant I turned 4585 times.
"In the last few miles I definitely felt every one of those turns! Recovery is going well and I'm already thinking what I can do next! You never know there might be another driveway marathon sometime soon!"
MDUK Regional Development Manager for Scotland, Dean Widd said, "It's great to see Gayle not letting the current situation get in the way of completing the three-marathon challenge that she set out to complete throughout 2020. Juggling home schooling, working and social distancing when looking to complete a marathon is no easy feat. For Gayle to complete this challenge against all the odds is a great display of determination and support in helping raise valuable awareness and vital funds for MDUK and Elliot's Fighting Fund."
She had planned to run the Manchester Marathon on 5 April, the London Marathon on 26 April and the Edinburgh Marathon on 24 May. Keep up to date with Gayle's future marathons by visiting her JustGiving page below.
Support Gayle and Muscular Dystrophy UK today
(CLICK HERE)
For more inspiring lockdown content read a poem from one of our readers >>