Drum Castle To Be First Scottish Venue for Chelsea Fringe
---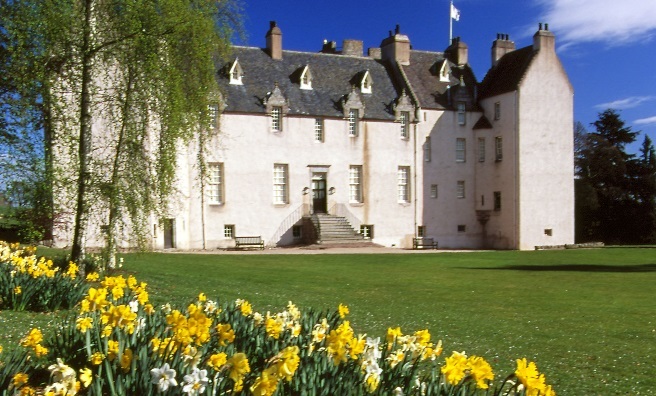 Drum Castle in spring.
The National Trust for Scotland's Drum Castle near Aberdeen has been selected as the first ever Scottish venue for the Chelsea Fringe.
The Chelsea Fringe is a new festival for everyone who's interested in gardens and gardening and runs from 16 May until 7 June, while the Chelsea Flower Show is underway in London. It started in 2012 and has an increasing international participation, but, until now, had not found its way to Scotland.
However, the National Trust for Scotland's Drum Castle has joined the gardening 'avant garde' to become the first Scottish venue to be included in the official programme.
'Celebrate the beauty and art of gardening'
"Chelsea is the world's most prestigious flower show," said Drum's Head Gardener Diana Robertson. "The Chelsea Fringe is a way in which communities can celebrate the beauty and art of gardening locally, whilst still being part of the amazing energy of the main festival. We might not be able to travel the 544 miles to Chelsea, but we can still take part and be proud that we are the most Northern and first Scottish venue."
As the Head Gardener of the stunning gardens and grounds of Drum Castle, Diana Robertson believes springtime is a really important time to celebrate gardens. "Everything is bursting in to life and getting out into the gardens, listening to the birds sing for their territory, watching the first bees come back to the hives saturated with cherry and lime blossom, anticipating the beauty of summer flowers and the bounty of the autumn harvest, gives you a real feel good factor," she said. "It just makes you happy!"
'The inaugural Scottish Chelsea Fringe'
Diana explained that, during the Chelsea Fringe, Drum Castle's event will involve photography, poetry, workshops and planting. "We will be celebrating the magic of trees with a special tree walk; marvelling at the beauty of moths with the Aberdeenshire Moth Group; creating Chelsea Bonnets using natural materials amd planting a door step herb garden in a bag for life, while the Lemon Tree Writers Group have composed a new poetry collection for the inaugural Scottish Chelsea Fringe and there will also be a wishing tree for visitors to hang their own thoughts."
Entry cost £4 for adults, £2 for children, £10 for a family. For more info call 01330 700334.
For lots more ideas about places to go and things to do throughout Scotland, pick up the latest issue of The Scots Magazine. In the shops now or order online by clicking here.
---
Photo Competition
To celebrate being selected as the first ever Scottish venue for the Chelsea Fringe, the National Trust for Scotland's Drum Castle has launched a garden photography competition. The team are looking for shots in three categories:
1. My favourite gardener (this could include garden 'helpers', like hedgehogs who helps keep slugs under control, as well as human gardeners)
2. A view of Drum Garden
3. All that grows (a close-up of a plant, flower, tree or similar)
Entries are welcome in three age groups – adults, senior pupils and primary pupils, before 18 May. For more details, to register, and terms and conditions, please email drum@nts.org.uk. Please note that entries must be submitted in printed form.
The winning entries from the photography competition will be displayed in Drum Castle on May 30 and 31.