Edinburgh International Book Festival Blog
---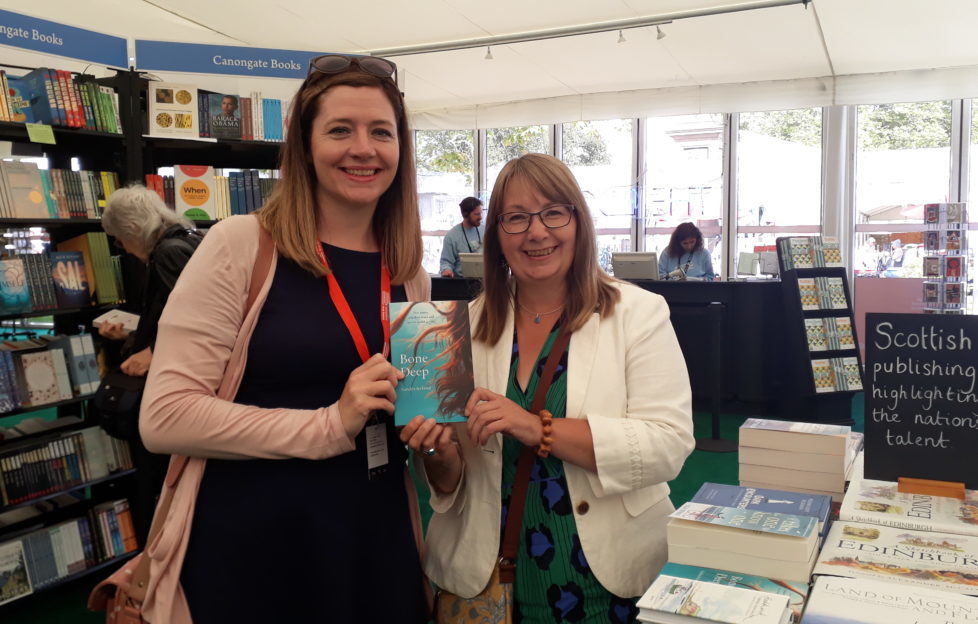 Dawn Geddes was our reporter on the scene at the Edinburgh International Book Festival 2018 launch
I've walked through the doors of Edinburgh International Book Festival (EIBF) many times and it never fails to thrill me.
Saturday, August 11, which was the launch of the 2018 event, was no different. Stepping into Charlotte Square feels like something very special indeed.
The square transforms every August into a beautiful bookish hub of activity. With 900 events packed into just seventeen days, the festival is the biggest in the world. For a book geek like me it's hard not to get excited by the host of literary names that attend.
One of the best things about the festival is that you don't even have to go to an event to soak up the incredible atmosphere. Hanging about Charlotte Square is free, and a brilliant place for author spotting!
Standing sipping a cup of tea in the gardens, I took a few minutes to look around. In that short time I spotted Queen of Crime Val McDermid, Gloaming author Kirsty Logan, psychological thriller writer Sandra Ireland, and children's writer Tom Morgan-Jones!
The Best Of Scottish Writers
My first event of the day was LA Noir, featuring renowned Aberdeen poet Robin Robertson. Robertson's book-length poem The Long Take, has been longlisted for the Man Booker Prize this year.
Robertson focused this latest work on the life of a war veteran from Nova Scotia who sets out for LA. The event took place in the festival's Spiegeltent, chaired by journalist and critic Hannah McGill. Together we explored the origins of Noir and the long-term effects of war. Robin's short reading was stunning, and I look forward to picking up this unique 'verse novel' very soon.
After stopping for a quick bite at one of the festival's eateries on George Street I headed off to my second event of the day in the Spark Theatre. This talk was with the wonderful author Jasper Fforde, who mixes comedy, science fiction and satire in his popular novels.
The British writer, who penned The Eyre Affair, was at EIBF to talk about his latest novel Early Riser, which imagines what the world would be like if human's hibernated. Jasper's event, chaired by Kirsty Logan, explored his creative process and recent bout of writers' block. It was my favourite event of the day and demonstrated what a funny, generous and witty man, this talented author is.
Third up was a children's book event in the Baillie Gifford Corner Theatre with Tomi Adeyemi and Sophie Anderson, two debut authors who have had amazing success with their first works.
Tomi's novel Children of Blood and Bone is a spellbinding fantasy aimed at young adults, which is currently being made into a film by Fox 2000 & Temple Hill Productions. Sophie's middle grade novel, The House with Chicken Legs, has also taken the book world by storm, captivating readers with its alternative view of death.
The Hottest Event In Town?
By the time it was 5pm, and I had spent three solid hours in events. But, with a ticket to the hottest event in town in my hand, I gave myself a shake and joined the humongous queue snaking its way around the festival. Master storyteller Philip Pullman had arrived, and tickets to his event had sold out within minutes. I wasn't about to miss my chance to see him!
Pullman is a rare sight at book festivals these days and hasn't attended EIBF for ten years. The atmosphere amongst the Baillie Gifford Main Theatre audience was electric.
The highly-acclaimed children's author is internationally adored. His cult fantasy series His Dark Materials is currently being adapted for a BBC drama starring James McAvoy. Last year readers rejoiced as he returned to the same fantasy world. He released La Belle Sauvage: The Book of Dust Volume One, which is the first book in a new trilogy.
Chaired by Val McDermid, the highly anticipated event did not disappoint. Pullman shared lots of fascinating insights into his work, explored his creative processes and his own thoughts on his books and the beloved shape-shifting character Lyra Belacqua. It was an utterly magical event which the jam-packed auditorium absolutely adored.
After a quick glass of rosé, I left the opening day of EIBF and headed home. On the journey back, my mind buzzed with all of the inspirational words I'd heard from authors I'd encountered.
Edinburgh International Book Festival has well and truly launched and I can't wait to return very soon.
For information about the festival, click here.