Edinburgh International Film Festival 2016
---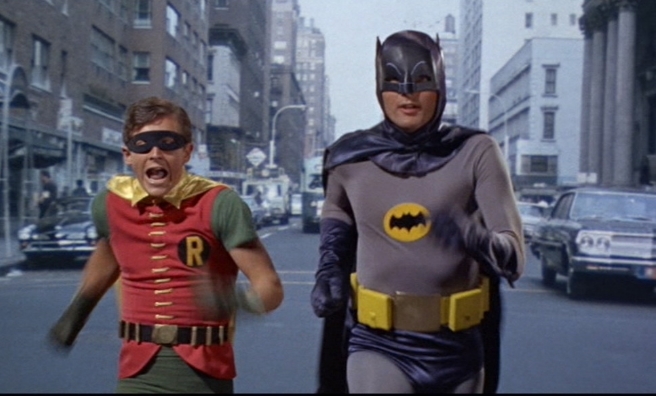 Batman and Robin - our favourite super heroes - are at Edinburgh International Film Festival
The retrospective programmes are our highlight of this year's line-up at the hotly-awaited Edinburgh International Film Festival
This year will be the 70th festival, and to celebrate the retrospective strands will be Look Again: A Celebration of Cinéma Du Look, and POW!!! Live Action Comic Strip Adaptations: The First Generation, which delves into the evolution of the live-action comic strip adaptation in cinema.
"The 'Cinéma du Look' retrospective marks 30 years since EIFF opened with the UK premiere of Jean Jaques Beineix's iconic Betty Blue, so it's a real thrill to be able to screen this selection of iconic films," said Mark Adams, Edinburgh International Film Festival Artistic Director.
Iconic stars expected to attend
These visually stunning films imbued French cinema of the time with exciting new directions and possibilities, showcasing performances by French stars such as Jean Reno, Christophe Lambert, Michel Piccoli, Isabelle Adjani, Juliette Binoche, Jeanne Moreau, Dominique Pinon and Julie Delpy – and a number of these iconic stars are expected to attend this year's festival.
Titles in this strand will include Beineix's Betty Blue (1986) and Diva (1981), Besson's Subway (1985), The Big Blue (1988) and La Femme Nikita (1990) and Carax's Mauvais Sang (1986) and Les Amants Du Pont-Neuf (1991).
Superhero blockbusters
POW!!! Live Action Comic Strip Adaptations: The First Generation will offer 2016 festival-goers the chance to explore the cinematic roots of the current tidal wave of superhero blockbusters. The retrospective explores the best of the genre from explosive martial arts to chic '60s espionage via funky blaxploitation and far-out science fiction.
Titles will include Jean Jaques Vierne's TinTin and the Mystery of the Golden Fleece (France/Belgium 1961), Joseph Losey's Modesty Blaise (UK 1966), Leslie H. Martinson's Batman: The Movie (USA 1966), Mario Bava's Danger: Diabolik (Italy 1968), Roger Vadim's Barbarella (France/Italy 1968), Junya Sato's Golgo 13 (Japan 1973), Kenji Misumi's Lone Wolf and Cub: Sword of Vengeance (Japan 1972), Corrado Farina's Baba Yaga (Italy/France 1973), Arthur Marks' Friday Foster (USA 1975) and Robert Altman's Popeye (USA 1980).
The screenings will be supplemented by Origin Story, an event tracing the birth of the live action comic strip adaptation in cinema from the 1960s back to the silent era and detailing the earliest attempts to translate the frames on the page into frames on the big screen.
A weird, wild and wonderful world
"With superhero cinema dominating the international box office, the time is right for EIFF to take an affectionate look back at the weird, wild and wonderful world of big screen comic strip adaptation," commented Senior Programmer Niall Fulton.
"It's a unique and exciting opportunity to see a selection of rare, iconic cult classics  and provides a highly entertaining insight into the provenance of this current global phenomenon."
For more information, click here.
---
EIFF
Established in 1947, Edinburgh International Film Festival is renowned around the world for discovering and promoting the very best in international cinema. Intimate in scale, ambitious in scope and fuelled by pure passion for cinema, spotlights exciting and innovative new film talent in a setting steeped in history.