Edinburgh International Magic Festival Goes Festive
---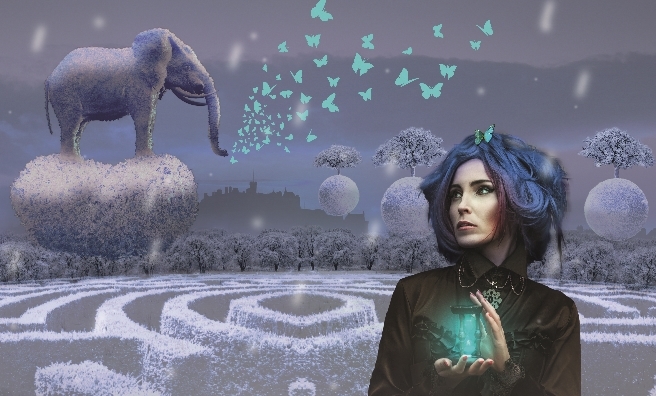 Add even more magic to Christmas at Edinburgh International Magic Festival - festive edition
Liven up the sometimes bleak days between Christmas and New Year with a visit to the first festive edition of Edinburgh International Magic Festival. 
Audiences of all ages can wrap themselves in magic from December 27-30 and enjoy Edinburgh International Magic Festival's spectacular Collections of Wonders – a heart-warming mix of thrilling magic with a sprinkling of comedy.
"With MagicFest's Summer Festival reaching over 10,000 people, this seemed the perfect time for us to offer a new magic experience with a festive twist," said Kevin Quantum, performer and MagicFest Artistic Director.
The show will offer children and adults captivating performances from top magicians from all over the UK and also a special guest from France, the award-winning Florian Sainvet.
From cutting-edge illusions and mind reading to mesmerising sleight-of-hand magic and edge-of-your-seat levitation, this festival of festive magics not to be missed!
The Spellbinding Magicians
Kevin Quantum: Magician-scientist trained by Penn and Teller in Las Vegas who fuses visual magic with modern technology and unique inventions. Kevin's comedy magic shows have twice been nominated at the Scottish Comedy Awards and have received 5 star reviews at the Fringe.
Florian Sainvet: An incredible talent from France, finalist in the World Magic Championships 2015 and 'France Has Talent' finalist who is recognised as one of the best sleight-of-hand magicians in the world.
Drew McAdam (27th and 28th Dec only): With a reputation as  'Scotland's foremost mind reader', Drew has baffled audiences in US, Russia and across Europe to Africa with his mind-boggling demonstrations of spoon-bending and mind-reading.
Matthew J Dowden: Known as the Dean Martin of magic, Matthew has charmed and enchanted audiences in 20 different countries with his unique show, which is inspired by Hollywood and his infectious love for classic art of magic.
Lewis Barlow (29th and 30th Dec only): Edinburgh's sleight-of-hand master and past president of  Edinburgh Magic Circle, the secret of the magic Lewis performs has been closely guarded by the world's greatest magicians over the last 200 years.
The 'MagicFest Christmas Special: Collection of Wonders' is at George Square Theatre, Edinburgh from December 27-30, 2016.
---
It's Magic!
Edinburgh International Magic Festival's Collection of Wonders
Tuesday December 27 – Friday December 30
Shows at 2pm and 7pm
George Square Theatre, George Square, Edinburgh, EH8 9LD
 Click here for more information and tickets (£18/£16 conc/£14 child)