Build a Better World
---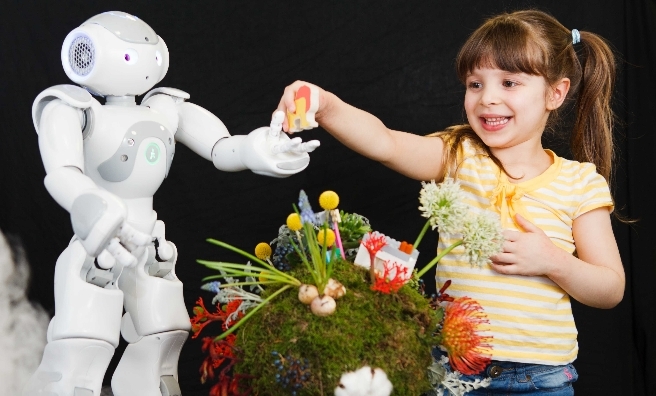 Gabriella Nombro (4) and (Baxter the Big one and Now the wee one) the robot play at the launch of Edinburgh International Science Festival's 28th Festival programme – Building Better Worlds. Photo by Toby Williams
This year's Edinburgh International Science Festival will focus on science, technology, engineering and design's potential to improve our world.
The 2016 Edinburgh International Science Festival runs from March 26 until April 10, and will offer adults, children and families the opportunity to engage with science through fun events and workshops, giving everyone who goes along the chance to join the global debate of how we can build better worlds both for now and for the future.
The Festival will be held in venues across the city including Festival hub Summerhall, the City Art Centre, the National Museum of Scotland and partner venues Dynamic Earth, Edinburgh Zoo and the Royal Botanic Garden Edinburgh.
'World-leading scientists, artists, authors and innovators'
"I'm excited by the mix of world-leading scientists, artists, authors and innovators that will join audiences in Edinburgh to share and debate their visions of a better world," commented Creative Director Amanda Tyndall.
"Science and technology have the potential to help us address so many of the key challenges we face; from how we feed, heal and fuel the world to how we live happy and fulfilling lives as we do so. But they don't work in isolation from the wider world.
"It is through collaboration with their creative cousins that we stand the best chance of innovating and securing our future.
"This year's Festival celebrates this with a programme which focuses on the fertile space where science meets the arts, with something for curious minds of all ages."
Over 70 free events
The annual Edinburgh International Science Festival is produced by the Edinburgh International Science Foundation, an education charity whose mission is to inspire people of all ages and backgrounds to discover the world around them through science.
In 2016 there are almost 300 events taking place during the festival, including 73 free events. Highlights of these free events include:
Pop-Up Science: Enigma Machine where everyone has the chance to encrypt a message on a replica model of the Enigma machine (Friday 1- Saturday 2 April) at the National Museum of Scotland
Discovering what animals do to survive at The Science of Survival at Royal Botanic Garden Edinburgh (Wednesday 6 and Saturday 9 April)
Cells, Microscopes and Art at Our Dynamic Earth (Thursday, April 7) explores our tiny world at Our Dynamic Earth (Thursday 7 April)
The chande to find and find out how to fake blood, guts and gore at SFX Blood and Gore Make-Up at the Scottish Parliament (every Saturday of the Festival).
For the full programme, and to book tickets, click here. To find out about all the other festivals happening across Edinburgh this year, click here.

---
FAMILY HIGHLIGHTS
Dame Evelyn Glennie performs a new composition in the world premiere of The Sounds of Science
Science in the Spotlight features world class children's theatre
Scotland's Year of Innovation, Architecture and Design is celebrated with Scotland's first Tiny Homes Village
'Artist in LEGOⓇ bricks' Warren Elsmore creates a vision of a Mars habitat at National Museum of Scotland
Lee Towersey, co-creator of R2D2 from Star Wars: The Force Awakens appears at Edinburgh Mini Maker Faire
---
ADULT HIGHLIGHTS
Lord Martin Rees, ESA astronaut Jean-François Clervoy and Professor Chris Rapley share their views and experience on the challenges facing us today
Meet Mars One finalist Ryan MacDonald at The Big Bang Bash, dance the night away with Peter Lovatt aka Dr Dance and let Prof Richard Wiseman blow your mind in Experimental
Prof Paul Hadley predicts how chocolate may become extinct in Chocolate: Food of the Gods