Elixir: The Director's Cut
---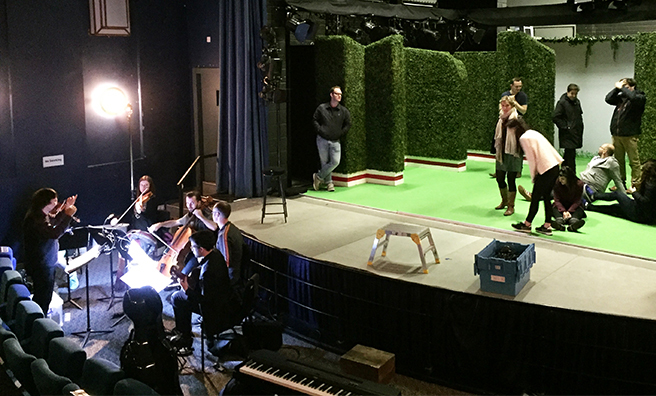 We're now halfway through Scottish Opera's
tour of The Elixir Of Love, and it's time to check
in with Movement Director and Assistant Director,
Jim Manganello to find out how the show has
evolved on the road
I write this just before the tenth performance of our 17-venue tour of Elixir of Love, and the show continues to surprise us.
I once worked with a Russian puppet master, whose long, long beard spoke of his seriousness and wisdom, but whose eyes glittered with a wickedness that encouraged us to always be playful, mischievous and alive.
As we got close to opening night, he dropped this pearl of wisdom:
"A show is like a knitted tapestry.


Pull one corner – everything changes."
'Maintaining' a show – especially a comedy, especially on tour – is less about maintenance and more about attention to those 'pulled corners', and sometimes that means pulling the corner back.
For example, after a couple performances of Elixir, I noticed several singers starting to add unnecessary physical decoration. When you've been playing a certain character for a while, you grow used to their series of gestures and it had become second nature, so it begins to feel easy – too easy to expand it.
Unlike in theatre or film, in opera one character will often listen to another for an inordinate length of time. When did you last listen to your partner speaking, uninterrupted, for six minutes?
Most of us would interject a little 'uh huh', or noise of agreement, but because opera is a completely different language, the language of music, we accept the silence.
I encourage the singers to add not quantity but quality: to give weight to a single reaction rather than to multiply the reactions themselves. It's just a case of the live nature of performance pulling a corner, and my job to tug it back.
"the show moves forward of its own will"
Often a corner is pulled – a singer finds new depth in a moment, for example, a joke's timing clicks into place – and it's a brilliant discovery.
It would be criminal to go back to the previous, lesser version. In this case, the whole tapestry must change. There's no such thing as stability in live performance.
To stand still is to move backwards, because the show moves forward of its own will – the characters grow richer, as do the interactions, and in turn the interaction between the company and the audience.
We must move with it or be left behind in the dust.
Evolving Performances
Here's an example. A certain Elixir duet brought the house down in our first three performances. The singers were at the top of their game, the text and movements combined beautifully.
Over later shows, however, we noticed the audience getting quieter, and the applause milder after their performance. The singers were understandably confused.
"We've not been doing anything differently!" they said to me.
They were absolutely right, but I noticed that the big choral number just before them had evolved and improved. It was better, sharper, freer, more sophisticated.
Before, the duet was the stand out number in the section, but now the choral number seemed to have overtaken it. The corner had been pulled, the tapestry changed.
I would have been mad to 'fix' this by telling the ensemble to become duller. The only solution was for the singers in the duet had to become more confident, they had to tighten the bolts even more and now the section is a double coup!
Any show is a living beast, and thank goodness! It allows us to engage actively with a fresh audience each night.
We hope to see you there.
---
Tour Dates
Thu 20 Oct
Corran Halls, Oban
Sat 22 Oct 
Byre Theatre, St Andrews
Tue 25 Oct 
Perth Concert Hall
Thu 27 Oct 
Volunteer Hall, Galashiels
Sat 29 Oct 
Brunton Theatre, Musselburgh
Click here to book tickets!
---
More Blogs