Elixir: The Grand Finale
---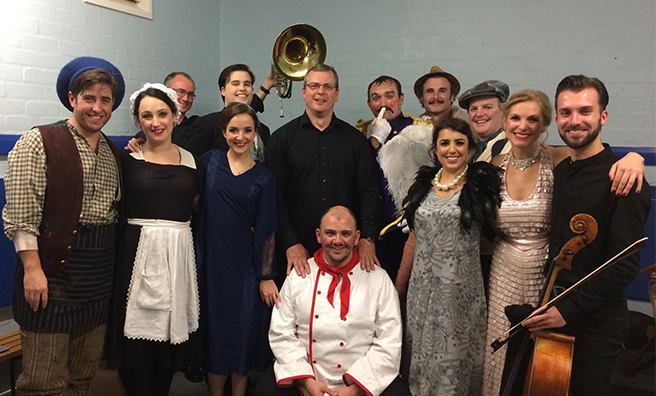 Our final blog from Scottish Opera's Autumn
Tour is by cast member Ellie Laugharne, who
plays Adina in The Elixir Of Love
We're almost 'Elixired out', with show 15 tonight in Perth Concert Hall and then just two more to go – the Volunteer Hall, Galashiels
and finally The Brunton Theatre, Musselburgh!
It's been great to experience both sides of touring – literally being on the road, moving from hotel to hotel, as well as being based in Glasgow, travelling to each venue on our super slick tour bus.
The cast and crew have been commuting to each show from Glasgow since our performance at Haddo House in Aberdeenshire just under two weeks ago.
The upside of being away is how sociable it is, and having a bit more time to explore new areas.
The cast and crew have breakfast together – with some of us attending more promptly than others. I have become renowned for popping down five minutes before the end of service to be welcomed by rolling eyes and smirks from my colleagues!
It's been lovely making plans for the day together, whether it's for a walk, a mooch around the town or simply pin down where and when we'll be eating next!
Having a built-in social life on tour makes it easy to forget about work that needs to be done and music that needs to be learned.
I'm heading to Opera North after finishing Elixir and will be performing a series of Viennese concerts over the New Year, whilst also learning the part of Gretel for some performances of Hansel and Gretel.
A Tour Minibreak
It's lovely to have a mini-trip away before we finish the run, and Oban is a gorgeous place to spend it.
My parents joined us all the way from Devon and thankfully behaved themselves for the journey up from Glasgow – we're not very accustomed to visitors on the tour bus!
And what a journey it was! The scenery was utterly stunning passing Loch Lomond, The Trossachs and Loch Awe.
We arrived to a beautiful sunset and enjoyed a fabulous meal at The Waterfront Fishouse Restaurant. Sadly, I wasn't able to join my parents on their trip to the Isle of Mull, as the boat returned too late and I was required at the show venue for the balance call.
Highlights of the Elixir tour for me include our wet and blustery walk up Meall Mor in Ullapool with fabulous views across the surrounding lochs, the blissful ferry trip back from Stornoway with wall to wall blue skies and spotting seals and porpoises – we think!
We had a good laugh thanks to our brilliant Elgan Llyr Thomas, who plays Nemorino. He led us to believe we were spotting very equally spaced, bobbing seals, when they were in fact buoys!
In Thurso our hotel gave us a wonderful welcome with an operatic-themed dessert menu, and we took a walk in the dark in an attempt to witness the Aurora Borealis (arguably more of a 'bore' as we saw very little, but we laughed through our disappointment).
In Inverness we had a girly night in watching The Great British Bake Off, a lovely send off meal for our viola player Maggie Miller, and our Music Director and first conductor, Stuart Stratford, followed by a beautiful sun-drenched walk along the River Ness.
Memorable Journeys
It's also been fun watching the progress of my cast mate Christina Petrou's ukulele playing, which she took up while on tour so she could record a video for her husband as an anniversary surprise.
Her tunes have been tour bus singalongs ever since!
Our journey to Newton Stewart was certainly memorable, as we were slowed down somewhat getting there, following a herd of sheep along a country lane!
On stage, there have been a few memorable moments too such as Belcore's (Toby Girling) moustache falling off and our amazing Dulcamara, (James Cleverton) stumbling over notes on the accordion, which he learnt to play specifically for Elixir.
Here's hoping for no mishaps between now and our final performance in Musselburgh!
There have been many highlights and lots of laughs and I shall be really sad to say goodbye to this production and to everyone on the team.
Adina is the first Donizetti role I've performed and my first experience of 'bel canto' repertoire. Most of my work so far has been in earlier styles,mainly Mozart.
I was feeling quite daunted by this big role before we started but Olly Platt, our director, was so encouraging and the music staff were all very supportive, so from day one of rehearsals I've been delighted to be part of this production.
I'm very proud it's been so generously received by everyone.
This is the final blog from Scottish Opera's Autumn Tour of The Elixir Of Love. Click the box below the gallery for tickets to their final shows, and click the links below to read their earlier tour blogs.
---
Final dates!
There are only a few showings left on the Elixir tour, so catch them while you can!
Tue 25 Oct 


Perth Concert Hall
Thu 27 Oct 


Volunteer Hall, Galashiels
Sat 29 Oct 


Brunton Theatre, Musselburgh
---
More Scottish Opera
Pick up a November issue 
of The Scots Magazine to
read about Scottish Opera's
groundbreaking dementia-friendly performance of
The Marriage of Figaro.