Elixir: From Sketch To Stage
---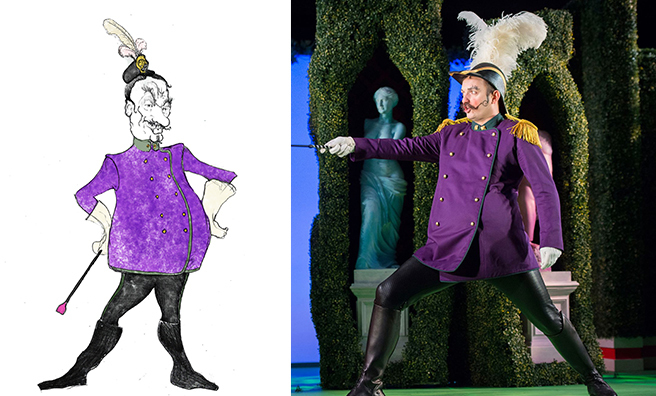 Our second blog is from Oliver Townsend, the Designer on The Elixir of Love
I have very fond memories of working with the Scottish Opera costume team on Rodelinda back in 2013 and it's been a similarly rewarding experience with The Elixir of Love.
From early conversations discussing drawings and approaches with John Liddell and Lorna Price (Head and Deputy Head of Costume at Scottish Opera respectively), right through to fittings and beyond, it seems to me the entire department's ability to pluck a drawing off the page it was drawn on is as good as anywhere.
Oliver Platt, Elixir's director, and I worked closely to create this world onstage. Our production initially took inspiration from the kind of farcical society settings P G Wodehouse created in his novels, but is lovingly 'seasoned' with whimsical, heightened, and anachronistic touches throughout.
We wanted the plot to remain clear and for the production to have a generous and warm heart. This intention informed my choices when realising the costumes.
Making Design A Reality
Whether it's fabric shopping with Lorna, developing a specific dress or jacket with (fantastic!) costume makers such as Ali Currie and Sara Löfgren, or trying out make-up with Alison Chalmers and the cast, a day with the costume department at their production studios is more often than not an extremely enjoyable one. And you might even get a beautifully presented pot of tea if you behave yourself!
From the word go, I felt the department understood the spirit of what we were seeking to achieve in the designs.
It's always reassuring to feel I can listen to instincts and advice offered, and watch a design evolve knowing it's in safe hands. Elixir has been a very collaborative effort and I hope they've enjoyed the process as much as I have.
Even in the final few days running up to opening night when there were still the usual bits and pieces to be done and details to finesse ("I'm not sure about that necklace!", "Did his moustache slide off?", "Can we get him a sparkly bum-bag?!" etc. etc.), I always felt confident our costumes would be beautifully realised.
Now the production is out on the road and I feel very proud of what's been achieved.