An Evolving Opera
---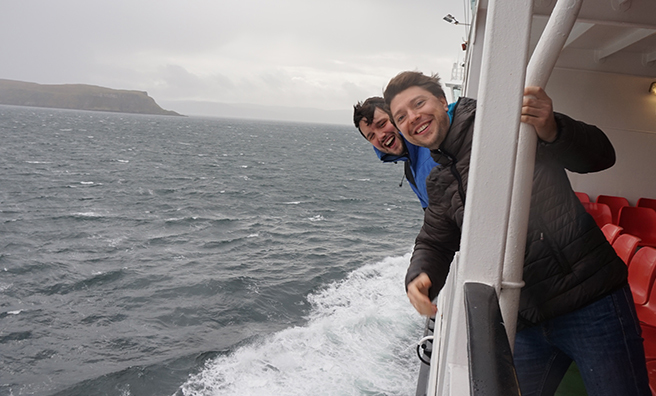 The different locations on the Opera Highlights tour changes the experience for both the audience and the cast, writes William Morgan…
From the outset I was looking forward to this tour. Of course, one of the main appeals was to see the many beautiful and unique places which were new to me and to which I'm already making plans to return.
I did, however, wonder if the tour might feel like quite a long time, and prove repetitive after a while. Here though I was completely wrong! It has flown by and each performance location has brought a totally different feel to the show and to our experiences of it – both in physical surroundings and, even more importantly, the close interaction with the people who come to see it and take part.
It is an incredibly fun show to perform, and thanks to Jack Furness and Liz Rowe's combined artistic direction it feels much more like a continuous play with music than a set of operatic highlights. The reward of repeating this with many different audiences and renewing how we engage with them and each other is immense.
Outside of the performances, my appetite for walking up hills, cliffs, or basically anything with an inclined surface has been abundantly catered for, and it has been delightful to be in the company of others who enjoy the outdoors as much as I do.
From our first day outside of the city, which involved a ramble from Mallaig around Loch an Nostarie (despite a minor waist-deep disagreement with a bog), via the Callanish Standing Stones, to the coast and woodlands at Nairn, my use of the always handy Walkhighlands website has been pretty thorough.
Both Liz and Lucy Hall, our resident wildlife enthusiasts, will undoubtedly do a better job of describing the fauna than I could, but swimming around seals, watching and hearing the roars of rutting red deer and the most spectacular view of a golden eagle putting some buzzards in their place with stunning aerobatic elegance, will be etched into my memory for a long time.
The highlight of the trip, despite all this, is undoubtedly the work. The team is very small but it is absolute class, and adapting and refreshing the show to each new space is a joy. I totally underestimated how much each different location (and they are very different – both in the performing space itself and its audience) would completely change the show. There is never one that feels the same as another. Our audiences are completely different each time and our close proximity to them during the show makes this impact keenly felt – not to mention talking to them in the pub afterwards. This is what makes me look forward to each show and relish the chance to do it many times.
I'm lucky enough to be returning to work on this tour again early next year. I can't wait!
---
More…
For the full tour dates 

click here

, and for more cast blogs 

click here

!