Santa Pipes Up At Blair Castle
---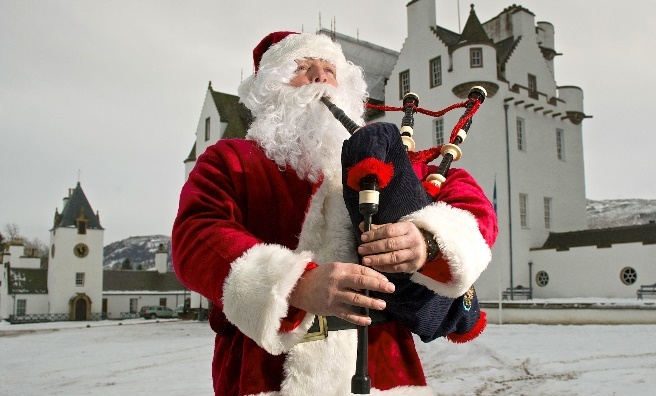 Santa's showing off his bagpipe expertise at Blair Castle this week
There's a very special piper at Blair Castle this week – Santa Claus!
Families can visit Santa in his magical grotto on Atholl Estates and listen to him pipe Christmas tunes while the children get an early Christmas present.
Santa will be appearing in his grotto, set in one of the oldest and most beautiful parts of Blair Castle, which is hosting a series of festive attractions on December 20/21.
'His magnificent bagpiping skills'
"It wouldn't be Christmas without a visit to Santa's Grotto, but when Father Christmas has a talent, it would be a shame not to let him display his magnificent bagpiping skills," said Mike Dukes, Head of Marketing at Blair Castle.
As well as their multi-talented, piping Santa, the castle is decorated as it was for the festive season in years gone by and tours will enable visitors to step back in time to the Victorian era. In addition, Blair Castle is hosting special Sunday lunches in its spectacular ballroom on December 21.
'The castle and grounds are majestic in winter'
"We are delighted that we are able to open our doors to the public at such a magical time of the year," continued Mike.
"The castle and grounds are majestic in winter and will definitely give you that festive feeling."
For more ideas about places to go across Scotland over the festive season, click here.