Our February Issue 2016
---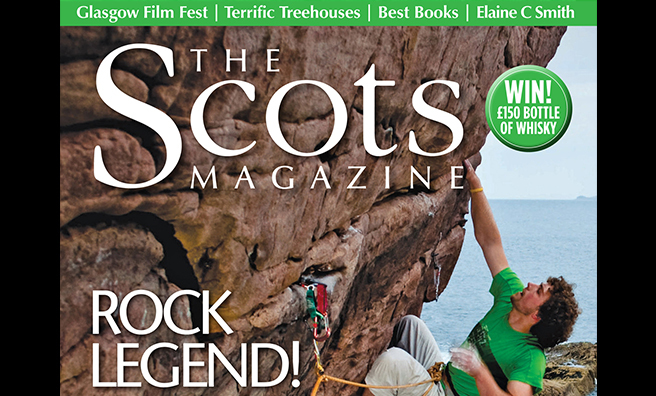 Here's this month's exciting line-up…
People
Catch up with Elaine C Smith as she prepares for her role in Annie
Discover how novelist Fiona Gibson gets her inspiration
All your news and views from our Mailbox
Alan Pinkerton brought justice to the wild west and inspired the FBI
Andrew McDairmid traces the roots of Canadian founding fathers
Culture
Glasgow Film Festival is a celebration of the classics!
Starlings – cheeky lodgers and a stunning aerobic display team
Poetess Rachel McCrum has a mission in life to spread the word
Mr McFall's Chamber provides a wide spectrum of music
Meet our new alternative music blogger, Lisa-Marie Ferla
Discover the best in new Scottish fact and fiction
Euan celebrates a new Lewis whisky – the first in over 150 years!
The simple porridge oat is not just for breakfast
Places
This month's Focus is the history, science and the great outdoors of Lochaber
Stockbridge has a rich and fascinating legacy
Treehouses come in all shapes and sizes
Cameron McNeish's close encounters on Sutherland's Quinag
Five pages of Around Scotland – what to see and where to do it 
Leisure
Your chance to vote for our Photographer of the Year!
Experience some superb biking and spectacular views in the Ochills
Take A Hike sees us ploughing through the snow on Morrone
Giddy-up with equestrian stunt team, Riders of the Storm
Tips for the outdoors with our tried-and-tested gear guide
Our cover star Greg Boswell is continually pushes new barriers
How Scotland is a world leader in Fairtrade Fitba'
For Carina Contini, lobster is the food of love!
Competitions
Up for grabs this week:
Ultimate stunt experience day
Bottle of three-year-old expression from Abhainn Dearg Distillery
Packed hamper from Hamlyn's of Scotland
Copies of our favourite titles from the Scottish Bookshelf: The Venison Bible, The Scottish Berries Bible, Glasgow – Mapping The City, Create And Colour Scotland.
Out now!
Our February issue is in shops now, and through subscription.
There are loads of ways to get it digitally to your smartphone or tablet too; just visit the app store, get a digital subscription here or visit the Readly app store.