A Ferry Good Job!
---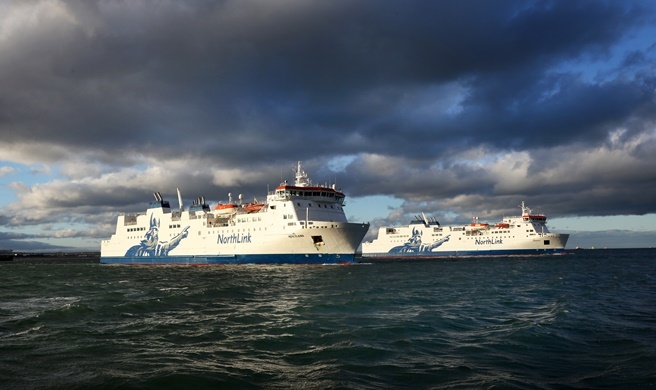 The Hjaltland and The Hrossey set sail
Dave Wheeler has the sort of job boys (of all ages!) dream about – he's in charge of The Hjaltland, the massive NorthLink ferry which sails between Scotland, Orkney and Shetland. Just don't make the mistake of calling him Captain!
"The term 'Captain' is officially a rank in the Royal Navy," stresses the man at the helm of The Hjaltland, which travels the overnight route between Aberdeen, Kirkwall and Lerwick. "The command qualification in the Merchant Navy is a Master Mariner's certificate – hence the historical and legal title of Master."
The Hjaltland sails the 180 nautical miles between Aberdeen and Shetland every evening, carrying up to 600 passengers and 100 vehicles.
"Each season presents its own variations," says Master Dave Wheeler. "During the summer months, we carry large numbers of tourists to the islands, with an increase in the numbers of cars, campervans, coaches and motorcycles and a reduction, therefore, in the amount of freight carried. The autumn period sees large quantities of livestock being carried from the islands to the mainland, whilst winter sees less passengers but an increase in freight."
The passage between Aberdeen and Shetland involves sailing across fairly exposed waters – and totally calm days are few and far between in the North Sea. "During the winter months, the severe weather can be quite challenging," says Dave, who admits that, for those of us who don't have our sea legs, Northlink's state-of-the-art, 21st-century ferries aren't as good in a storm as the older vessels they replaced.
"Probably the only area in which older ships might be considered superior would be their sea-kindliness," he says. "The older hulls, with their flared bows, made for a more comfortable passage in heavy seas. However, greater speed of newer vessels makes up for that.
If it's very stormy, a sailing can be delayed until there's a weather window and then we can make up lost time."
Dave has been in the Merchant Navy since he left school. "When I was nine, my family moved to the beautiful Welsh seaside village of Saundersfoot, which had an old working harbour and an active sailing club. A large part of my childhood was therefore spent on the water, in all manner of craft, and it was a fairly straight-forward progression to the Merchant Navy."
After undergoing training at HMS Conway, a college for Merchant Navy cadets, Dave joined P&O Cruises in 1973 and sailed worldwide – initially on cargo ships and then on passenger ships. "I met my wife, Hilary, who was a purser with P&O Cruises, whilst we were both sailing onboard Canberra in the late 1970's."
By 1987, Dave and Hilary had a young family and decided to take a sabbatical. "Hilary and I sailed a 42-foot boat out to the Caribbean where we used it as a charter yacht."
Once their children reached school age, it was time for Dave and Hilary to leave the British Virgin Islands and return to the UK. "I was fortunate to find a vacancy with P&O Scottish Ferries sailing between Aberdeen, Orkney and Shetland in 1989 – and I'm still sailing the same route!"
Having spent 40 years at sea, Dave's witnessed some spectacular sunsets in some spectacular locations. "But overlooking Shapinsay Sound in Orkney on a still mid-summer's evening certainly takes some beating," says Dave, who is due to retire in a couple of years.
"As Ratty famously said, there's absolutely nothing half so much worth doing as messing about in boats. I'm looking forward to a retirement messing about in a slightly smaller boat than The Hjaltland – and in the Mediterranean. And although I may still be the Master, I suspect my wife will be the Commander!"
For more information about NorthLink Ferries, visit www.northlinkferries.co.uk.
---
NorthLink Ferries
NorthLink Ferries offer three passenger ferries: The MV Hjaltland and MV Hrossey travel from Aberdeen to Kirkwall and Lerwick, whilst the MV Hamnavoe sails between Scrabster and Stromness.
Facilities on board the vessels include the Viklings Den play area for children, tasty food featuring locally-sourced produce and a cinema showing the latest releases.
Comfortable en-suite cabins, sleeping pods and spacious reclining chairs can be reserved on all sailings.