Ravenscraig to Wemyss on the Fife Coastal Path
---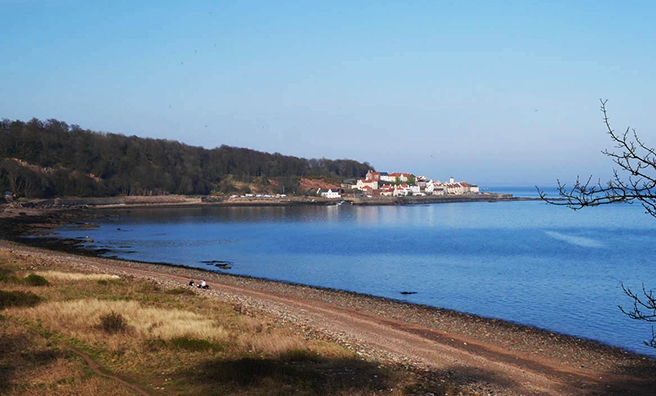 Castles, fishing cottages and old mining relics – this section of the Fife Coastal Path is awash with heritage
Sometimes the best places are right at your doorstep and that is certainly true in Scotland.
So, on a gloriously sunny spring Saturday I jumped on the train from Edinburgh and ended up walking part of the Fife Coastal Path. And what an exhilarating experience it was! Let me share with you my day on the "other" side of the Firth of Forth.
Having grown up by the Mediterranean Sea, I find myself drawn to the coast, and walking part of the Fife Coastal Path reminded me a lot of the gorgeous "camins de ronda" we have in Costa Brava.
It's a different landscape, different nature, different architecture… but this walk reminded me of home, especially on such a sunny day.
After reaching Kirkcaldy by train, I soon joined the coastline and found the first signs for the Fife Coastal Path.
Ravenscraig Castle
The first place I stopped was at the little beach under Ravenscraig Castle, the original home of Queen Mary of Gueldres, queen consort of Scotland and wife of King James II of Scotland.
This stunning fortress marked the start of my walk, and from here, the path wound up and down through the forest, opening into small coves where the water shimmered.
Soon, Dysart's harbour appears. Sheltered and protected from the elements, with its quaint fishing cottages and boats, it is easy to understand why it was picked as one of the filming locations for Outlander.
This tiny place is bustling with life and colours, alive with history and stories of times past. Pack a sandwich and eat your lunch looking out to sea. Nothing beats the feeling of soft sea breeze on your skin on a sunny day in Scotland.
Mining Heritage of Wemyss
The path continues first to West Wemyss and then onto East Wemyss. Here the green of nature and cliffs blend perfectly with mining heritage and tales days long past.
The path descends into a rocky beach where I found some friendly seals sunbathing on some rocks that had been exposed by the low tide. There they were, just in front of West Wemyss, enjoying their time in the sun. I am not sure whether or not this is a favourite sunbathing spot of theirs, but do stay a while to see if you can spot them.
The town is just around the corner and once you get there, you'll notice the quaintness of the tiny fishing harbour, the faded glory of buildings that have seen better days, and a certain air of romance in the air.
Take your time as I did, and explore the miner's houses and fishermen's hotels at your leisure. It is a lovely little spot that usually gets overlooked on the Fife Coastal Path.
With sunset looming in the horizon, I gave the walk a last push, aiming for East Wemyss, another underrated place in Fife that deserves another visit.
By the time I got there, I had walked a little over three hours, across countryside that had allowed me to see Fife under a completely different light. It made me love that part of Scotland even more than I already did.
When will you be visiting?
---
or follow her adventures through social media on
---