Filming The Craftsmen's Dinner
---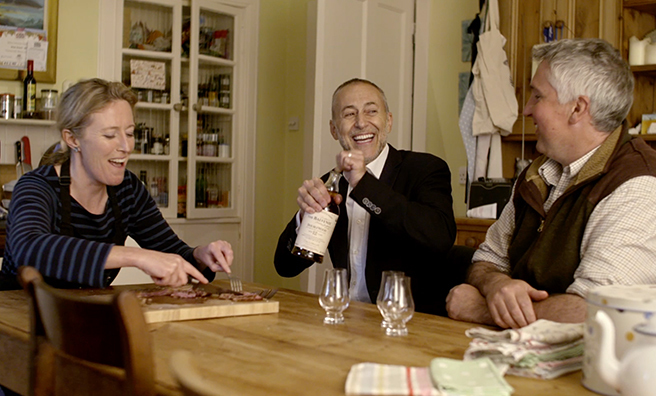 25 years ago, Sascha Grierson never thought she'd be involved in with one of biggest organic food productions in Scotland, let alone teaming up with The Balvenie and Michel Roux Jr. …
A spur-of-the moment decision not to go to university in Dublin but forge a career in Edinburgh proved to be a sound one, as she met husband Hugh and joined the family-run farm in Perthshire.
The rest, as they say, is history.
Grierson Organic was born, business began to boom … and world-re-nowned chef Michel Roux Jr knocked on the door!
Roux and The Balvenie, one of Scotland's best and most famous single malts, had teamed up to produce a series of short films celebrating the best of British craftsmanship.
They were looking for one of the films to feature an organic meat producer and Sascha and Hugh were only too pleased to be involved.
"I got an email from Balvenie who asked if we would like to be part of this series," she says.
"It seemed like a lovely thing to do and we were happy to participate. The fact that Michel Roux was presenting the series was the icing on the cake. He's such a star, and his media work is all about encouraging and nurturing people which is so positive. How could we say no?!
"It was a little nerve wracking as I had to cook a steak for Michel in the film and then we all tasted it with a dram of Balvenie. I had to cook it to perfection but I also had to make sure I did justice to our own product.
"Luckily it turned out fine – everyone was very kind and patient while I concentrated hard so I didn't over cook it."
In filming The Craftsmen's Dinner Sascha met other craftspeople – from a piano-playing salmon smoker to a Sheffield-based knife-maker.
"They were all a lovely bunch, all very idiosyncratic, with big personalities and not afraid of speaking their minds," says Sascha.
"It was great fun meeting them all. Balvenie put together quite an interesting collection."
But were Sascha and Michel on the same wavelength when it came to quality food?
"I think so, although we are at either ends of the food spectrum where he creates the final dish that someone will eat and we grow the live animals.
"He seems very committed about sourcing the best ingredients, and about the emotional side of food, as it brings people together.
"I served lunch in our kitchen for him and the film crew on that day and he was happy to sit down with us all and share eating together.
"It was a memorable day, and a lot of fun."
Sascha is featured in episode two of The Craftsmen's Dinner, which you can catch online. Don't miss our interview with Michel's father, Albert Roux, either – only in this month's Scots Magazine!