Portobello Belle
---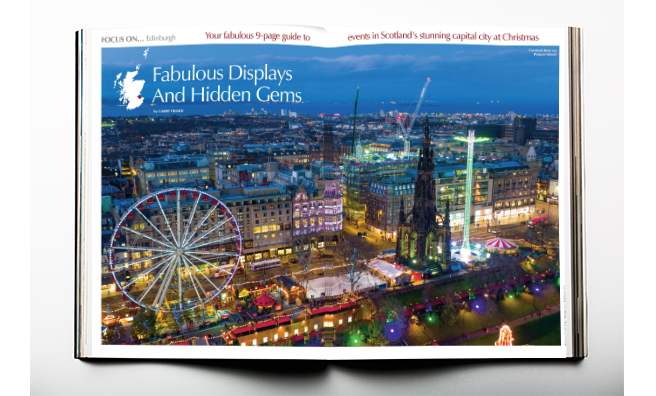 Our December issue's 9-page Focus is on the
hidden gems of our capital city, and here's a
wee extra on the coastal suburb of Portobello…
Portobello might be part of the City of Edinburgh and only 3 miles east of the city centre, but to many of its inhabitants it's a town in its own right.
It's very much a residential suburb now, complete with promenade and sandy beach, but it still retains its unique character and sense of identity.
The name Portobello comes from a cottage that stood on what is now the town's High Street, built in 1742 by a seaman called George Hamilton.
He had taken part in the British Navy's capture of Porto Bello (Spanish for beautiful port or harbour) in the North of Panama, he and named the cottage in its honour.
Some Unusual Claims To Fame!
Portobello once had a large open-air heated swimming pool where Sean Connery worked as a lifeguard, and its pier was designed by Sir Thomas Bouch, the infamous designer of the Tay Railway Bridge, which collapsed during a storm in 1879.
The pier was 1,250 feet long and cost £7,000 in 1871. However, it suffered a similar fate to the Tay Bridge when its iron supports rusted away. The pier was demolished in 1917.
During the industrial revolution of the 19th century, Portobello manufactured bricks, glass, lead, paper, pottery, soap and mustard and was incorporated into Edinburgh by an act of parliament in 1896.
Its popularity as holiday resort peaked in the late 19th century, but the 20th century saw a slow and unfortunate decline as the attractions on the promenade closed down.
Sport On The Sand
Since the turn of this century, however, things began to pick up with kayaking and sailing clubs holding annual races and with beach volleyball becoming a well-established recreation.
The town is worth a visit, even if its to simply enjoy an ice cream while strolling along the promenade or sample one of the many bars and cafes on the promenade.
Or better still, get off those shoes and socks and go in for a paddle!
---
Out Now!
You can find our
Edinburgh Focus in
our December issue, in
shops now, and available
on subscription.

There are loads of ways
to get it digitally to your
smartphone or tablet, too;
just visit the app store, get
a digital subscription here
or go to the Readly app store.