Follow The Angus Maritime Trail
---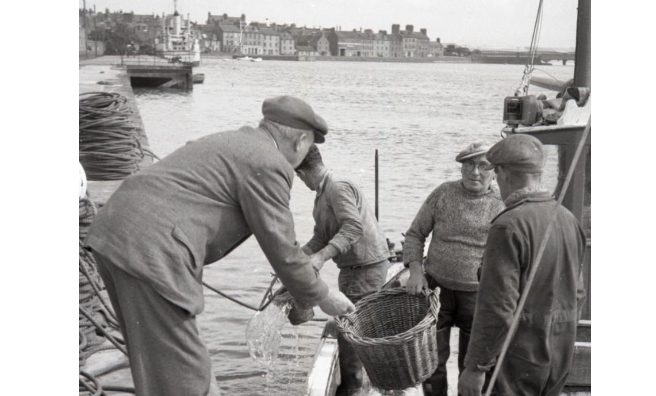 Landing fish at Montrose Harbour. Photo courtesy of Angus Archives.
The new Angus Maritime Trail booklet is packed full of fascinating information about the people and places of this  stunning stetch of Scotland's coast.
The Angus Maritime Trail hugs 35-miles of stunning shoreline, from the expanse of golden sand at Montrose right along to Monifieth beach, providing a handy guide to the history and heritage of the area.
"There are so many remarkable stories connected to the picturesque towns and villages along the Angus coastline," said Colin Easton, curator of Arbroath's Signal Tower Museum and author of The Angus Maritime Trail. "Each settlement started out as a small fishing village but some developed into bustling ports, others enjoyed spells as top holiday resorts while others have changed little over the last eight centuries."
It's the seafarers of Angus who have the starring roles
The county's lighthouses, caves, ancient castles, majestic cliffs and, of course, the sea, play an important part in the Angus Maritime Trail. However, it's the seafarers of Angus who have the starring roles in this booklet, including the fisher families of the deserted clifftop village of Usan, the smugglers who used the caves near Lunan Bay, the fearless Arbroath lifeboat men and the Auchmithie fishwives who carried their men to their fishing boats so their feet didn't get wet.
"Whenever I see Montrose Basin, I'm reminded of the financial acumen of the fishermen from Ferryden and Usan," revealed Colin. "They refused to pay the amount charged to non-Montrose fisherman for collecting mussels from Montrose Basin to use as bait. Instead, they formed their own Mussel Society and rented a stretch of the mussel beds, which worked out much cheaper.
"Another story I uncovered was of a brave Arbroath fisherman, William Swankie, who, in 1922, swam 50 feet in very stormy seas to secure a line to a ship which had been grounded on rocks near Carnoustie, enabling the crew to be rescued."
The county's coastal towns and villages in days gone by
The Angus Maritime Trail is illustrated with rarely-seen images from the Angus Archives of the county's coastal towns and villages in days gone by. "It's good to compare the places featured with how they look today and also to see how people lived and worked along the coast," said Colin. "Some of the skills which appear in the booklet, such as baiting the lines at Auchmithie, are long gone, while others, such as making Arbroath Smokies, are still very much in evidence."
The Angus Maritime Trail can be downloaded from www.angusheritage.com.
For lots more ideas about places to go across Scotland, pick up a copy of this month's issue of The Scots Magazine. In the shops now or order online here.