Foraging Fortnight 2020 Programme
---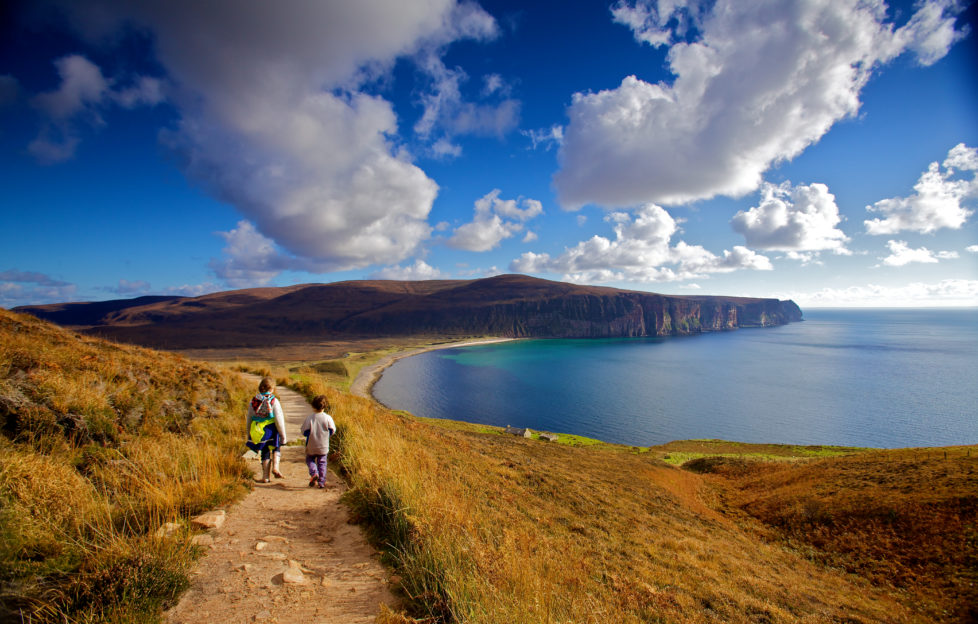 The path back to Rackwick from The Old Man of Hoy, Orkney
Foraging Fortnight reveals its first ever virtual event programme!
From cookery workshops and foraging walks to Orcadian music and foraged beer, the line-up for this year's Foraging Fortnight is not one to miss!
This year's festival will be a whole host of virtual events which are accessible from home but provide the skills to forage independently and responsibly afterwards.
The LEADER-funded festival, which will run from August 29 – September 13, has teamed up with Orkney International Science Festival to design a programme that includes everything from foraging walks and seaweed workshops to herbal wellness and virtual feasts.
Confirmed events in the growing line-up include:
Outing: Foraging the Old Road
A virtual walk through Binscarth Woods and over the hill to the Loch of Wasdale, on a section of the St Magnus Way. Orkney wildlife guide Megan Taylor looks out for wild plants with ethnobotanical researcher Anna Canning who describes their traditional uses for sustenance and health.
Workshop: Papermaking from Natural Materials
An opportunity to learn the basic elements of the craft, as artist Lin Chau leads you through the process of mould and deckle making, preparing plant pulp fibre, pulling a sheet and couching it, then pressing the paper. Participants will be sent out a pack in advance containing everything required to take part.
Talk: The Way Back Home
Could life after lockdown provide an opportunity for reflection, and a return to a healthier relationship with the natural world? We are an intrinsic part of it, says Elizabeth Woodcock, walk leader, horticulturist and writer. She interweaves the work of writers, poets and scientists with images of the surrounding landscape of the Cumbrian Fells, to explore gardens, brains, lanes and life.
Talk: The Botany of Beer
In the days before hops, flavour was balanced in beer by foraged plants like angelica and meadowsweet, and by spices brought from the East on new sailing routes. Master brewer Ken Duncan tells the story.
Talk: Seaweed from the Arctic Circle
The cold clean waters around the Norwegian island of Træna produce fine seaweed, which are harvested by the Northern Company. The company's founder describes its work in a small fishing community of less than 500 people, amidst spectacular scenery and northern lights.
Virtual Walk, Supper & Musical Evening: A Hoy and Rackwick Evening
Take a virtual ferry crossing from Stromness to Moaness pier, and walk up the brae to the Hoy Kirk for seaweed soup for supper, with a recipe to prepare at home in advance. Then sit back and enjoy some music and memories from the family of a local fiddle-player. The evening will be completed with a guided walk at Rackwick Bay with archaeologist Dan Lee.
Talk: Along the Tide-Mark Gathering Drift
Beaver-chewed timber from North America, a sea heart from the rainforests of the southern Caribbean and a lobster creel tag from Newfoundland: Martin Gray, who runs the Orkney Beachcombing page, describes the wealth of treasures that wash up on an Orkney shore and the searching and foraging quest that has taken Orcadians to the shore since Neolithic times.
Workshop: Riches of the Shore
A creative family-friendly session of shore-inspired fun for all ages. It's hosted by artists, foragers and a marine ecologist and will be streamed from Warebeth and Birsay on Orkney. The team reveal how to make plant brushes, and paint with shore-sourced pigments; forage along the coastline and feast on your finds; get up close to shore creatures; and photograph seaweed. This will be rounded off with foraged food around a beach fire.
The foraging events will be streamed live on www.foragingfortnight.co.uk and just about all of them free of charge. Many talks and sources of guidance will remain on the website – though those participating live in the events will have the opportunity to interact directly with the host. One or two events may incur a charge to cover the cost of sending out activity kits in advance.
Keep your eye out for The Scots Magazine September issue and read more from this year's biggest foraging event!