Fraserburgh's Amazing Arctic Circle Cyclist
---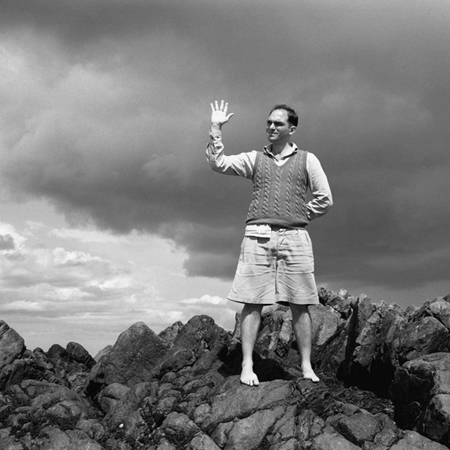 Samuel Dore, who played James Duthie in the film Dummy Jim
A remarkable Fraserburgh cyclist's 3,000 mile Arctic adventure has been celebrated in a new limited edition book – the revived and revised edition of 'I Cycled Into The Arctic Circle'.
First published in 1951, the book is a first-hand account of profoundly deaf Scot James Duthie's 3,000 mile journey from northern Scotland to the far north of Scandinavia.
The new limited edition book brings Duthie's original text into play with artist filmmaker Matt Hulse's own frank reflections on the complicated 13-year journey that culminated in his own film adaptation of Duthie's journal. Called Dummy Jim after Duthie's nickname in his home village of Cairnbulg near Fraserburgh, the film was released in 2013 and was nominated for the Edinburgh International Film Festival's Michael Powell Award.
A fully illustrated and richly annotated collector's edition
The new book is a fully illustrated and richly annotated collector's edition which includes extracts from Hulse's original screenplay, recipes, new critical writing from Amanda Game, Sarah McIntosh, Chris Fujiwara and Gareth Evans, location stills photography from the film plus a specially commissioned poem by Aberdeenshire poet John Mackie.
The launch event at the headquarters of the Saltire Society included a poetry reading from John Mackie, a viewing of a new film from Matt Hulse documenting the making of Dummy Jim and a reading from the 1951 journal by Saltire Society Executive Director Jim Tough.
"This is a terrific collaboration honouring a heart-warming and inspirational story," said Jim Tough.
---
James Duthie
• James Duthie was a deaf mute, known fondly in his home village of Cairnbulg, Aberdeenshire as Dummy Jim.
• In his book 'I Cycled into the Arctic Circle', he records his 1951 trip from northern Scotland, to the Low Countries, Scandinavia, and the northerly territories.
• James Duthie was killed in a road accident in 1965 at the age of 44.