Irvine Welsh | Fringe-Spotting
---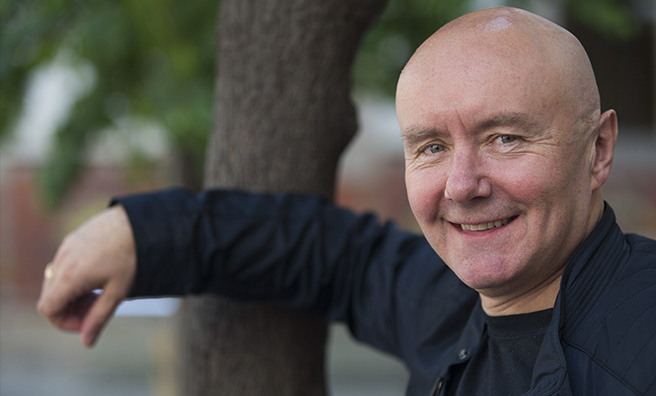 The Trainspotting author gives us a preview
of the three shows he's involved with on this
year's Edinburgh Festival Fringe
Most writers—certainly living writers—would be lucky to have their name attached to one show on this year's Edinburgh Festival Fringe, let alone three. Irvine Welsh, however, is not most writers…
"Yes, it's crazy," Irvine says. "It's a bit like buses, you know? You wait for ages and they all come at once.
"They're all very different in their own ways," he adds. "Trainspotting Live is set in Scotland in the 1990s; Creatives is Chicago now; and Performers is London in the 1960s. What they've got in common is that they're about underdogs trying to get by—people who don't have a lot of power, trying to survive."
---
Trainspotting Live
EICC (Venue 150), 2-27 Aug (not 9, 16, 23)
Although based Harry Gibson's original 1994 stage adaptation for Edinburgh's Traverse Theatre, Irvine believes this new production by In Your Face theatre has given Trainspotting a new lease of life.
"They've made it their own," he says. "They've made it a really vital, contemporary piece of theatre and they've basically rebranded Trainspotting as a youth project again, for modern youth, which is really quite fascinating for me.
"It's become, for me, the quintessential Trainspotting experience, even more than either of the movies or some of the really acclaimed versions of the play in the past. It's an incredible achievement for them; they've taken it and made it into something completely different, and something very contemporary.
"You feel that you're in this whole scenario with them; you really understand the foibles and frailties of the characters, but also their humanity—you really understand that, you don't have that distance from them."
Click here for tickets to Trainspotting Live
---
Creatives
Pleasance Courtyard (Venue 33), 2-28 Aug (not 15, 22)
Co-devised with his friend, American Skin author Don De Grazia, this dark pop-opera is arguably the "most political" of Irvine's three shows.
"Creatives is about the appropriation of culture, the appropriation of art, which is a big issue for artists—particularly young artists who aren't looked after by lawyers, corporations and copyrights in the same way as established artists—as we move increasingly into this era where people expect everything on the internet for free.
"But it's also about the changes in America; the growth of a kind of insurgent nationalistic, right-wing sensibility," Irvine adds.
Click here for tickets to Creatives
---
Performers
Assembly Rooms (Venue 20), 3-27 Aug (not 14)
"Dean Kavanagh's a close friend," Irvine says. "We're both obsessed with movies, but he's really obsessed with the stories behind the movies.
"He got me intrigued by the story behind Performance (the 1970 British crime drama starring James Fox and Mick Jagger)," Irvine adds. "He saw it as a kind of 1960s metaphor for all the changes that were happening in society—in sexuality, the breaking down of social class barriers.
"The joy of it was going back into a whole vernacular that doesn't really exist anymore—that kind of 1960s cultural Cockney. It was really great to play with that but, with me being from Scotland and Dean from Yorkshire, we really needed some proper Londoners involved!
"We saw it very much as this kind of cultural clash; a couple of guys who are on the margins of society but have a sudden chance to come into the mainstream."
Click here for tickets to Performers
---
More From Irvine…
Look out for an exclusive interview with Irvine Welsh in an upcoming issue of The Scots Magazine…