Frozen Berry Breakfast Smoothie
---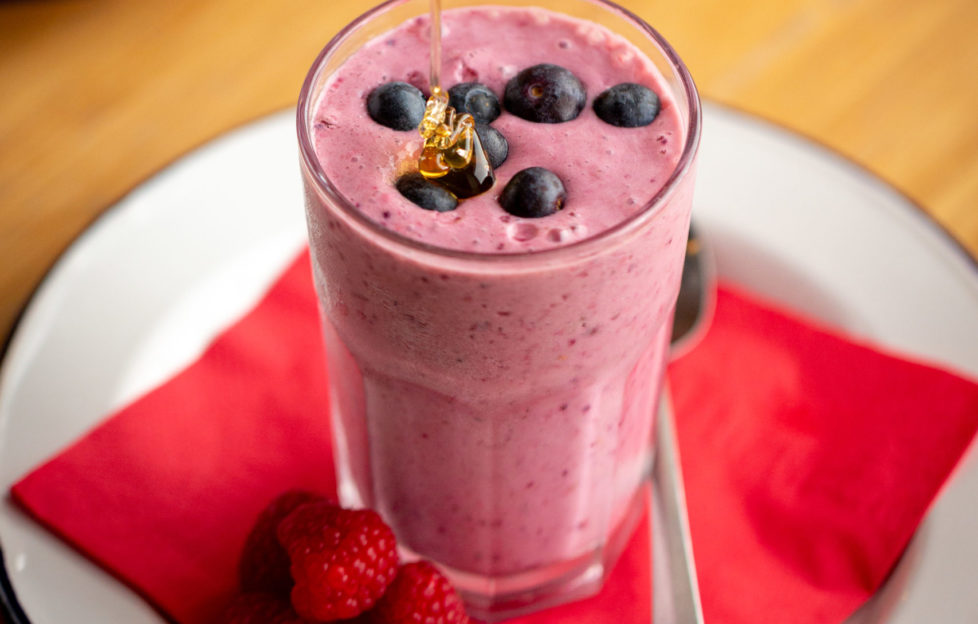 Ingredients
80g (about a handful) of a mixed frozen raspberries, blueberries and blackberries
100-150g full fat Greek yoghurt (one small tub)
1 small ripe banana
250ml full fat milk
1 tablespoon maple syrup or honey
Teaspoon of vanilla extract (optional)
Credit: Jeni Hardie, Bad Girl Bakery
The Bad Girl Bakery team from the Highlands has shared with us one of their secret recipes – their popular Breakfast Smoothie. Perfect for those now back on the go!
This Breakfast Smoothie recipe comes from Jeni Hardie at the award-winning, Bad Girl Bakery. This family-run bakery based in Highlands town, Muir of Ord, has developed a formidable reputation for producing the very best handcrafted, homemade and beautifully baked delights.
Created daily by the friendly kitchen team, Bad Girl Bakery specialises in using seasonal ingredients to create cakes that often have hidden centres or something extra special about them – jammy crumble toppings or hidden surprises inside – but most importantly are a proper delicious treat. The bakery now includes a shop with baking supplies and a daily changing takeaway menu.
This is lovely because, not only does it taste great, it's the kind of thing that feels like an indulgent treat, but is full of good stuff and incredibly filling. This recipe makes enough for two. We freeze any leftovers in ice-lolly moulds. My wee Bad Boy loves them.
Makes enough for two
Method
All you do is put all the ingredients in the blender and whiz them up until everything is smooth. If it's too thick just add a splash more milk. The type of milk is totally up to you. I often make this recipe at home with almond milk and it tastes great.
The berries really are best frozen for this, but if you're using fresh berries then add a few ice cubes in before you blitz it. If you've got really ripe bananas you can just peel and freeze them whole and use them instead of a fresh banana. We serve ours really thick with a drizzle of maple syrup and some berries over the top.
The riper the banana, the sweeter it is, so if yours are very ripe you might want to leave out the maple syrup. You can replace the berries with frozen mango, the Greek yoghurt for coconut yoghurt and add a dash of coconut milk along with the regular milk to make a more tropical version.
NOTE: This doesn't like to hang around, so don't make it in advance, or it will separate.

This recipe comes from Jeni Hardie at the award-winning, Bad Girl Bakery. For more visit their website

CLICK HERE