Glasgow To Host Scotland's First Color Run
---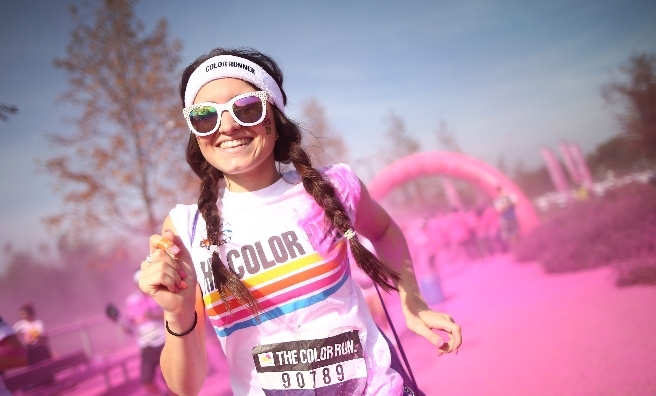 Brighten up your keep fit campaign at the Color Run in Glasgow
The Color Run will take its world famous bright and colourful party to Scotland for the first time ever when the event kicks off at Glasgow's Emirates Arena on June 21.
Now in its third year, The Color Run has spread fun and colour to more than 50 countries, with 300+ events worldwide. In 2014, the 'Happiest 5k on the Planet' saw more than 85,000 'Color Runners' participate in Color Run events across the UK – and now it's our chance to run three miles while being bombarded with dazzling colours and a touch of sparkle.
The Color Run is an untimed event so participants can walk, jog, dance and party their way along the course – at any pace! Starting in a white t-shirt and reaching colour zones at every kilometre, there's no way to finish the 'Happiest 5k' without being covered from head to toe in kaleidoscopic colour!
At the finish line, the multi-coloured runners join the Festival Area to enjoy a great mix of DJs, MCs, the infamous 'Color Throws' plus a host of colour crazy giveaways.
'Enjoy the party atmosphere'
"Glasgow is home to some of Scotland's biggest and best running events," said Deputy Leader of Glasgow City council and Chair of Glasgow Life, Councillor Archie Graham. "We are delighted to be welcoming the Color Run to the city for the first time this year and I've no doubt the people of Glasgow will turn out in large numbers to enjoy the party atmosphere."
The National Society for the Prevention of Cruelty to Children (NSPCC) is The Color Run's official charity partner for 2015.
"By taking part in one of these fun, colourful events and raising money for the NSPCC, people will be joining our fight for every childhood, helping us protect children and prevent abuse here in the UK," said NSPCC Director of Fundraising, Paul Farthing, who explained that participants can support the children's charity when they sign up by donating straight to the charity or setting up a fundraising page once they have entered.
"We can't wait for The Color Run to make its Scottish debut," said James Robinson of event organisers Challenger World. "With this new location, and a brand new dazzling twist, the summer of 2015 promises to be even bigger and better than last year!"
For more ideas about places to go and things to do across Scotland, pick up a copy of the latest issue of The Scots Magazine. On sale in the shops now or order online here.
---
Look Out! Color's About!
Watch The Color Run 2015 launch video at http://www.youtube.com/TheColorRunUK – but beware! This video looks so much fun, it almost made me sign up for the Glasgow Color Run!
---
Key Facts
The Glasgow edition of The Color Run takes place at Emirates Arena on Sunday June 21, 2015.
Event entries are priced at £26 for individuals and £24 per person for group bookings.
To enter, visit

www.TheColorRun.co.uk

.
More information can be found on

The Color Run UK Facebook page

, on twitter by following @TheColorRunUK and on Instagram with @TheColorRunGBR.