Gluten Free Chocolate Brownie Cookies
---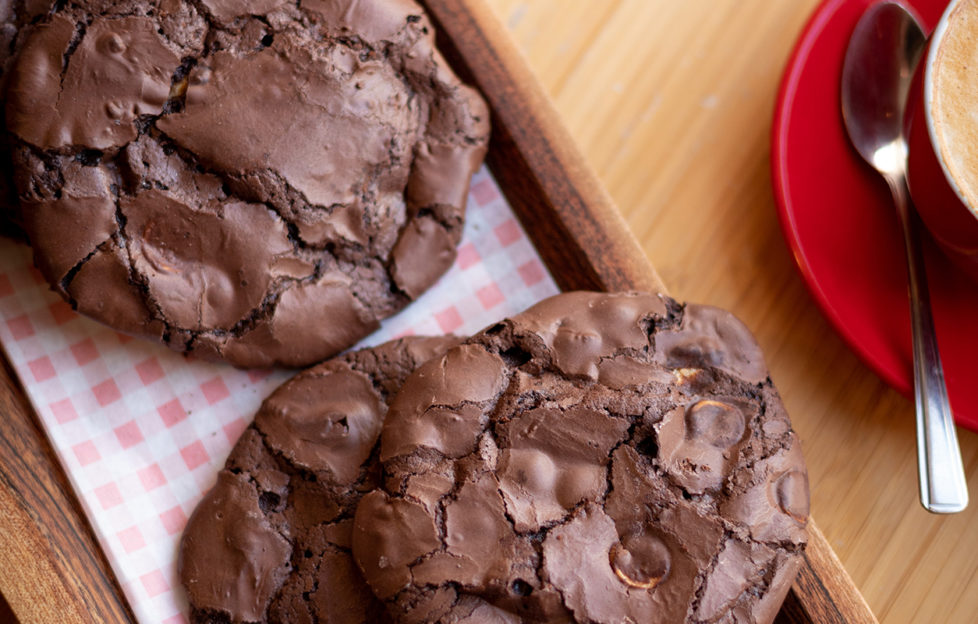 Ingredients
385g icing sugar
95g cocoa powder
1 teaspoon salt
3 medium eggs
125g chocolate chips (mix of milk and white or whatever you prefer)
Credit: Jeni Hardie, Bad Girl Bakery
Bad Girl Bakery recently reopened as a baking and food shop! To celebrate the team have shared with us one of their secret recipes – their popular Gluten Free Chocolate Brownie Cookies!
This family run bakery based in Highlands town, Muir of Ord, has developed a formidable reputation for producing the very best hand crafted, home made and beautifully baked delights – including these Gluten Free Chocolate Brownie Cookies.
Created daily by the friendly kitchen team, Bad Girl Bakery specialises in using seasonal ingredients to create cakes that often have hidden centres or something extra special about them – jammy crumble toppings or hidden surprises inside – but most importantly are a proper delicious treat.
The bakery now includes a shop with baking supplies and a daily changing takeaway menu. And now they've share with us the extra special Gluten Free Chocolate Brownie Cookies recipe below!
If you like really chocolatey cookies, with crisp edges and chewy middles, then this is the recipe for you. And if you're not gluten free, don't let that put you off! It's a best seller in the bakery and our customers can't believe they are gluten free.
You'll need: two baking sheets lined with parchment and a hand whisk and a wooden spoon if you're mixing by hand or a stand mixer with a paddle attachment for mixing ease.
Makes 10 giant Gluten Free Chocolate Brownie Cookies
Method
The cookie dough doesn't like sitting around once it's all mixed so it's really important to get the oven on at 160c, line your trays, set the stand mixer up, before weighing out all your ingredients.
Weigh the chocolate chips into a small bowl and crack the eggs into another bowl.
In the stand mixer bowl, add all the dry ingredients (except the chocolate) and mix to combine. Keep your mixer on low or there will be a cloud of icing sugar! If you're doing this by hand, whisk the dry ingredients with a hand whisk.
Next add your eggs to the dry ingredients and mix on low until all the dry ingredients are mixed in. This is a super thick mixture, so don't think you've done something wrong, it's meant to be like that!
Then add in the chocolate chips and mix until they are evenly through the dough. Using an ice cream scoop or two soup spoons, scoop out golf ball size balls of the mixture and place on your baking sheet. You should get around 10 depending on size. They spread out a LOT so give them lots of space. You may only get 4-5 on each sheet.
Pop the trays in the oven for 17 mins (set a timer here as the timings really matter!) They should still look soft when they are ready but not soggy. They will set up and form into a lovely chewy cookie with a thin crust.
It's hard, but do leave them to cool almost completely before lifting them off the trays as they break easily when warm. They are worth the wait!

This recipe comes from Jeni Hardie at the award-winning, Bad Girl Bakery. For more visit their website

CLICK HERE