Golden Eagles Enjoy a Lottery Windfall
---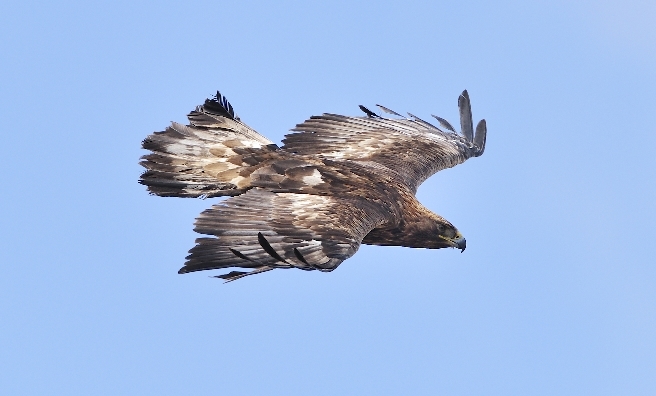 A new project to help Golden Eagles in the South of Scotland has received initial support of more than £1 million from the Heritage Lottery Fund.
At present, there are only two to four pairs in the south of the country with limited nesting success but the scheme aims to boost numbers of Golden Eagle to up to 16 pairs in Dumfries and Galloway and the Scottish Borders. There is also potential to release eagle chicks into the wild in the years ahead, when CCTV 'eagle cams' will give the public an opportunity to keep an eagle eye on the chicks as they grow.
'Scotland's most iconic species'
The initiative has the support of Cabinet Secretary for Environment, Climate Change and Land Reform, Roseanna Cunningham MSP. "The Golden Eagle is a truly magnificent bird and is one of Scotland's most iconic species," said Rosanna Cunningham.
"This project aims to boost the population of eagles in the south of Scotland and I heartily welcome the Heritage Lottery Fund support to help achieve this."
This new project builds on a 2014 Scottish Natural Heritage report, which found that southern Scotland could potentially support up to 16 pairs of Golden Eagles. Presently, there are only two to four pairs, with limited nesting success.
Bringing eaglets into the area
Dr Cat Barlow has been appointed as project manager, and is currently forming a small support team. The team will focus on identifying areas/sites and management measures which should benefit the birds.
Work is planned to examine how food supplies could be improved and nest sites be made secure, to identify additional habitat management measures that may be needed, and if necessary, to consider prospects for bringing eaglets into the area for release to reinforce the existing population.
For more information about this project, click here.
---
Scottish Natural Heritage
Scottish Natural Heritage

is the government's adviser on all aspects of nature and landscape across Scotland.
The role of SNH is to help people understand, value and enjoy Scotland's nature now and in the future.
For more information,

click here

.