Double Crown At Golden Spurtle Awards!
---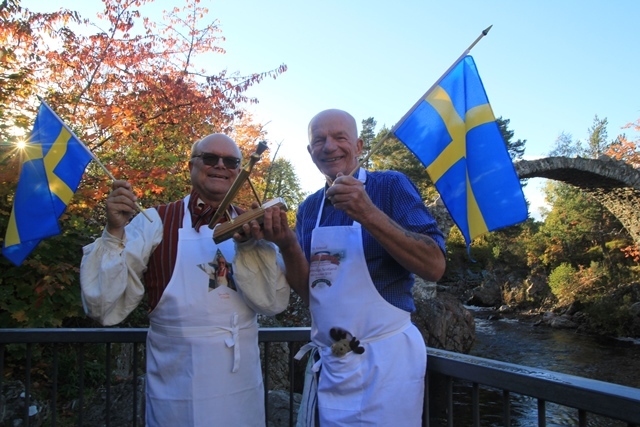 The World Porridge Making Championships awarded the coveted Golden Spurtle trophy to two competitors for the first time
For the first time in its 25-year history, two porridge-makers share the Golden Spurtle trophy.
Calle Myrsell and Per Carlsson, pictured above, shared the prestigious title after judges were unable to pick the best traditional porridge out of the two bowls. The two winners both hail from Sweden, and were delighted with their win.
The coveted award is given to the contestant deemed to have made the best traditional porridge using just three ingredients – oatmeal, water and salt. Per won the speciality porridge award last year, and returned this year with only one thought in mind…
"After I won the speciality porridge category last year I have thought about winning the Golden Spurtle every day," Per said. "I am absolutely delighted. Great porridge needs three key things; love, patience and great ingredients."
It was the first time at the awards, however, for his co-winner Calle – and his first time in Scotland, at that!
"Everyone here at the competition has been so friendly and welcoming," he said. "I am totally surprised to win on my first time. I came here on my own but everyone back home is thrilled for me."
Global Entries
In front of an audience of hundreds, 30 competitors from around the world took part in the event in the heart of the Cairngorms National Park including those from UK, Finland, Canada, Germany, USA, Estonia, Russia, Australia and beyond.
"This year's championships were spectacular," said Michelle Green, the organiser of the event. "It was a fitting way to mark our celebration of this wonderful but humble dish.
"It is the first time we have had joint winners as the judges just couldn't pick one over the other. Both Per and Calle can feel very proud to have succeeded in the face of stern competition from across the world.
"I hope that the Golden Spurtle World Porridge Making Championships will continue to inspire people worldwide to enjoy porridge."
Oat-inspired Tapas!
The speciality category for oatmeal and any other ingredients, led to a wide variety of sweet and savoury entries.
Chris Young from Perthshire won this category with an interesting Mexican recipe . He won with an oat-inspired tapas featuring eight individual elements. These were all prepared in the allotted half hour and included mussels stuffed with skirlie, Mexican green rice (made with pinhead oats) and steak with an oat gremolata.
Another first for this year's championships was  a Junior Heat. 26-year-old Lynn Munro from Sutherland won with both a traditional porridge and a speciality entry entitled "Forage For Your Porridge".
This featured Heather honey, hazelnuts, and many berries and botanicals foraged in Carrbridge on the morning of the competition.
Carrbridge Community Council organises the The World Porridge Making Championships, which will return again next year.
Hamylns of Scotland, the Banffshire-based producer of Hamlyns Scottish Oatmeal and Hamlyns Scottish Porridge Oats is proud to sponsor it.