Grid Iron Shines the spotlight on CRUDE: oil
---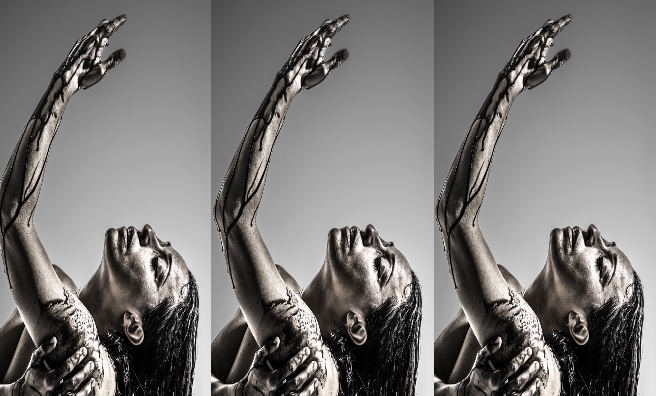 Grid Iron's Crude is at the Port of Dundee from 8-24 October. Photo by Chris Close.
This October, a giant shed at Dundee docks is the setting for CRUDE: oil, a new play by Grid Iron Theatre Company.
Focusing on the lives of offshore workers and the choices they make to work on North Sea oil rigs, CRUDE: oil travels to the Niger Delta and the Arctic Circle to look at the global impact of oil production and its human and ecological cost.
Bringing together a cracking cast of seven, Crude's actors include Grid Iron first timers Band of Brothers and Silent Witness' Phil McKee, Neil John Gibson, Sarah Bebe Holmes, Brad Morrison (who worked in the oil industry before launching his acting career) and Tunji Lucas (Aaron in Dundee Rep's Titus Andronicus).
'Oil has been both a blessing and a curse since its discovery'
Written and directed by Ben Harrison, the play traces not only the history of oil but also our reliance on the by-products of the black gold.
"The presence of oil has been both a blessing and a curse since its discovery in the 19th century, and for Scotland it throws up huge and important issues about natural resource control and who benefits from the production of oil and gas in the North Sea," said Ben, who explained that Crude centres on the lives of offshore workers and their families and the huge pressure the two weeks on two weeks off work pattern puts on family life.
'Modern life is entwined with the story of oil'
"The deeper I went into research, the more I have discovered how profoundly modern life is entwined with the story of oil," continued Ben. "Not just the stuff we put in our cars and aeroplanes, but also our plastics, cosmetics, pharmaceuticals, clothing, food… There is very little that surrounds us and makes us comfortable that is not connected with petrochemicals.
"For offshore workers, there are financially attractive opportunities globally, which become more attractive the longer the downturn lasts but these opportunities can happen in some of the most dangerous places on earth.
"The show, whilst rooted in the North Sea, travels to these places also and asks moral and political questions about resource control, risk and reward, and leaving it in the ground versus continuing with our complex, oil-addicted lifestyles."
Shed 36 is a highly appropriate setting
The Port of Dundee's atmospheric Shed 36 is a highly appropriate setting for CRUDE: oil as it previously homed Caledon Shipbuilding Engineering Company, while in more recent times, Kestrel Marine and Davy Offshore used Shed 36 for ship and rig production. Due to the vagaries of the oil industry, the shed was used as a grain store for a couple of years until Rigmar moved in and Shed 36 once again became part of the oil industry.
Performances
October 11- 24, pick up by bus from the Greenmarket car park beside Dundee Science Centre/DCA at 7.40pm (pick up time for performances on Sundays is 6.30pm)
Venue: Shed 36, Port of Dundee (admittance by bus only, photographic idea required for entry).
Under-16s are not permitted to enter the Port of Dundee.
Wrap up warm – the shed is cold! Blankets are provided and make all the difference but a hat and gloves won't go amiss.
To book tickets, click here.  
---
Review
Having left the bus in the shadow of the wo giant oil rigs that are berthed at Dundee's Docks, as the giant steel doors of Shed 36 slowly open, a massive expanse of black emptiness is revealed, with the way lit by white safety hats.
Taking our seats, lights reveal an oil rig platform, where everyone is hard at work, except Mike, who is trying to have a Facetime conversation with his young daughter over a very haphazard internet signal…
And so begins a play that covers a life anyone who works in the oil industry or has friends in the oil industry will recognise. The last minute changes of plan when you can't get off the rig, the train journey home with a few beers, the constant wondering if you're next to be replaced, the boredom, the loneliness, the danger…
And the danger is brought home to chilling effect by the actors repeating the exact words of survivors if Piper Alpha throughout the play. This is no work of fiction – this is real life.
At first, I thought Crude was going to be a diatriebe against our oil-addicted society but as the strands of the stories being told gradually became clearer, I realised it's about so much more.
It's about the damage oil has done and is doing to relationships, to people, to our environment and to every single aspect of our world – but also about how much we need it and how much we've all played a part in oil's dominance.
Definitely worth going to see, although you do have to stay focused as there's so much going on.